Words that Matter - a Matter of Words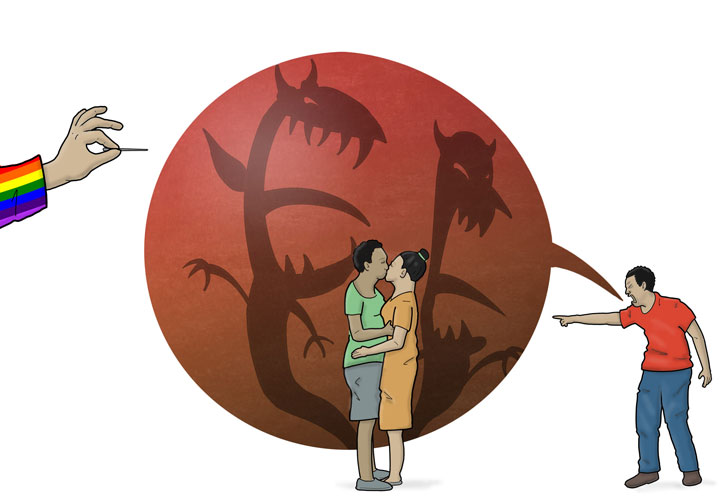 This blog is a free reflection on the workshop organized on 26 October 2018 by the ASCL's collaborative research group (CRG) Collaboration and Contestation in Words: Dialogues and Disputes in African Social Realities. This inaugural workshop of the CRG was very fruitful! We had the pleasure of welcoming two distinguished guests. Prof. Harri Englund, Professor of Social Anthropology at the University of Cambridge (UK), introduced the question of 'Free Speech and the Untranslatable: Homophobic Poetry from Malawi' and Dr Adriaan van Klinken, Associate Professor of Religion and African Studies at the University of Leeds (UK), gave a lecture about '"Homophobia is un-African and un-Christian": Emerging Kenyan, Christian and Queer Counter-Narratives and Arts of Resistance'.
Homophobic poems
Prof. Harri Englund's discussion of the concept of "untranslatability" made me think of Lizelle Bisschoff and Stefanie Van der Peer's book Art and Trauma in Africa (2013). The authors pose a similar question: can we "Represent the unrepresentable" / "translate the untranslatable"? Are violence and pain representable / translatable? In the case presented by Prof. Englund, violence takes the form of homophobic poems, written in Malawian. This challenges us to ask, to what extent is the concept of free speech appropriate when it comes to a discourse that spreads hate? This highlights an issue of ethics, and more specifically research ethics. Does translating homophobic poems give them new value? Or is it a way to understand and overcome violence and hate? Of course, translation is not an end in itself but should rather be viewed as a means within a cognitive and discursive work.
'Artivism'
As we are increasingly immersed in a world of images, overwhelmed by media of various nature and messages, defining the place of words today is increasingly complex. Is there still any room for language? As underlined during the workshop, words are never "just words". They work as a rhizome of possibilities. The emotionally charged nature of words makes them a perfect political tool. I found Dr Adriaan van Klinken's findings in the Kenyan case very interesting in this regard. His research focuses on the instruments used by the Lesbian, Gay, Bi, Trans and Queer (LGBTQ) community to subvert (or "poach", borrowing the terms of Michel de Certeau, 1984) the language of dominators to offer a new counter-narrative and give them a platform of expression. Allowing "hidden transcript" to transform into "public transcript", James C. Scott's theories provide a framework to reflect on the possibilities of art as a language of contestation – what Dr Van Klinken calls "artivism".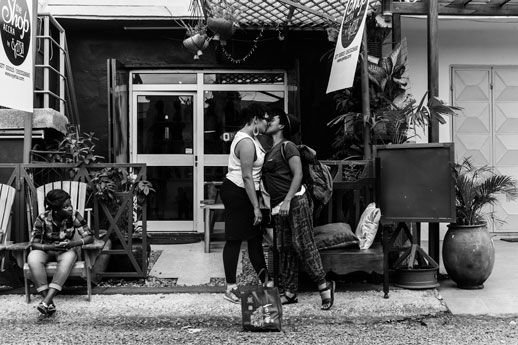 LGBTQ community in Accra
To conclude this short post, I would like to add a few words about the work of Eric Gyamfi, a photographer born in Bekwai (Ghana) in 1990. As a portrait photographer, Gyamfi documents LGBTQ community life in Accra. Through the exploration of queer spaces in the city, the artist has produced a sensitive series entitled "Just Like Us", introducing the viewer to the intimacy of this community's everyday life. However, the work has been expanded by incorporating the responses of the audience to the photographs (this work was exhibited at the Afrika Museum in Berg-en-Dal, the Netherlands until September 2018, as part of the Pan-African photography exhibition "Afrotopia"). It is striking that most of these responses are hateful, largely from social media such as Facebook and Twitter. It is an interesting ongoing process, in the sense that it tracks the life of the work. It reflects the general discourse about homosexuality in Ghana - which I expect mirrors that in Malawi or Kenya in the context of Prof. Englund's and Dr Van Klinken's presentations during the workshop. Eric Gyamfi's work truly depicts what it implies to be queer. For me, this is a perfect embodiment of Michel de Certeau's theory, a brilliant demonstration of art empowerment and the creation of new language of contestation.
Cartoon: Tjeerd Royaards, winner of the Inktspotprijs 2018 (award for the best political illustration in the Netherlands). Tjeerd was present at the workshop to visualize the discussions in cartoons.
Photo: Eric Gyamfi.
This post has been written for the ASCL Africanist Blog. Would you like to stay updated on new blog posts? Subscribe here! Would you like to comment? Please do! The ASCL reserves the right to edit, shorten or reject submitted comments.
Tags
homophobia
dialogues
disputes
research ethics
language
photography
media
art
Posted on 22 January 2019, last modified on 21 February 2019