Magali Chelpi - den Hamer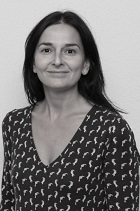 Magali Chelpi - den Hamer has 20 years experience mixing research, consultancy, lecturing and programme coordination in sub-Saharan Africa (Côte d'Ivoire, Rep. of Congo, DRC, Central African Republic, Mali). Since 2012, Magali has been associated with CNRS/IRD research lab IMAF (Institut des Mondes Africains) and since 2020, with the think tank IRIS (Institut de relations internationales et stratégiques). Her topics of interest include development and humanitarian studies, transitional justice, conflict and forced displacement, education. She holds a PhD in Social Sciences from the University of Amsterdam (UvA) and a French Doctorat in social anthropology from the École des Hautes Études en Sciences Sociales (EHESS).
Recent publications:
2022 – 'les organisations internationals : ces leviers sous-utilisés de la diplomatie d'influence française, les analyses géopolitiques de l'aide', IRIS.
2020 – 'l'aide au développement de qui ? Les États-Unis et la Chine dans leurs relations avec les Suds', Revue internationale et stratégique, 2020/4 (N° 120), p. 81-90.
2018 - 'Juggling between social obligations and personal benefit in Western Côte d'Ivoire: How do ex-combatants spend their cash allowance?'. In: J.-P. Olivier de Sardan et E. Piccoli (eds) 'Cash tranfers in context: an anthropological perspective, Oxford: Berghahn Books, 360 p. 284-299.