Magali Chelpi-den Hamer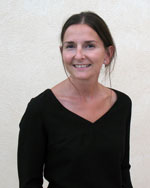 Magali Chelpi den Hamer has 20 years experience mixing research, consultancy, lecturing and program coordination in Sub-Saharan Africa (Côte d'Ivoire, Rep. of Congo, DRC, Central African Republic, Mali). Since 2012, Magali has been associated with CNRS/IRD research lab Institut des Mondes Africains (IMAF). Her topics of interest include: development and humanitarian studies, transitional justice, conflict and forced displacement, education. She holds a PhD in Social Sciences from the University of Amsterdam (UvA) and a French Doctorat in social anthropology from the Ecole des Hautes Etudes en Sciences Sociales (EHESS).
Most recent publication:
2018 - 'Juggling between social obligations and personal benefit in Western Côte d'Ivoire: How do ex-combatants spend their cash allowance?'. In: J.-P. Olivier de Sardan et E. Piccoli (eds) 'Cash tranfers in context: an anthropological perspective, Oxford: Berghahn Books, 360 p. 284-299.