Workshop: Modern State Administration and African Religious Cosmologies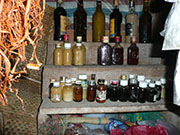 Scholars of Africa have noticed how bureaucratic, record-keeping states of the sort introduced in colonial times have interacted with techniques of governance in which oracles, rituals and other aspects of religion played a prominent role. Since most colonial territories in Africa acquired independence, half a century and more ago, the official apparatus of government, in which law and bureaucratic administration play a key role, has continued to coexist with techniques and institutions related to religious cosmologies. At the same time, new types of religious movement, such as Pentecostalism and Islamism, have emerged in many places.
This workshop groups a number of researchers from the African Studies Centre who are interested in the subject of modern state administration and African religious cosmologies. They will be joined by scholars from other institutions for a day-long interaction. Four researchers have been asked to circulate papers, which can serve as a basis for discussions that are intended to be as open as possible.
This workshop, organized by the ASC Collaborative Research Group 'Rethinking contemporary African history and historiography', is open to the public.
(Photo: Market stall in Libreville selling magic substances. Credit: Florence Bernault)
Date, time and location
Pieter de la Courtgebouw / Faculty of Social Sciences, Wassenaarseweg 52, 2333 AK Leiden
Posted on 18 November 2013, last modified on 4 December 2013