We need to interrogate the North-South dichotomy in African Studies publishing
Relations between Namibia and its former coloniser, Germany, are impacted by ongoing negotiations about reparations for a brutal and violent past. The 1904-8 genocide that decimated large parts of the indigenous population continues to cast a shadow in the present. One overlooked aspect is the Namibian book market, where German-Namibian publishing houses perpetuate a whitewashed version of history, writes PhD candidate Tycho van der Hoog.
About the author(s) / editor(s)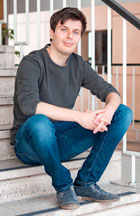 Tycho van der Hoog is a PhD candidate at the ASCL working on the project 'Blood, Bullets, and Bronze: The Relations Between North Korean and Southern Africa, 1960-2020'.
(Photo: Simone Both).
Posted on 14 July 2022, last modified on 14 July 2022