Exhibition: 'Neither Black Nor White revisited'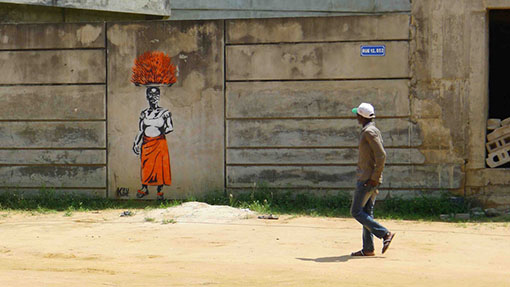 This exhibition consists mostly of graphic work and is initiated by Studio Kurtycz. Studio Kurtycz was created in Paris in 2002 by the artists Anna Kurtycz (Mexico-Poland) and RUDEK (The Netherlands) as a creative space using graphic art in a very open and unconventional way. Traditional printing techniques are combined with other ways of artistic expression as painting, installation, street art and photography, often with a social engagement.
From 2008 until 2015, Studio Kurtycz was located in West-Africa (first in Ghana and then in Benin) developing projects in interaction with the local population and local artists. These included subjects related to gender ("A woman is a woman"), migration ("Migration-Identity"), tolerance ("Neither Black Nor White"), corruption ("The Beautyful Ones Are Not Yet Born") and uniformity ("Girls in uniform"). The projects all depart from the idea that there is a synergy between art and society, and that art is meaningful to society as much as society is a great source of inspiration for artists.
The exhibition "Neither Black Nor White revisited" is a compilation of all those human interactions that inspired Studio Kurtycz and its work. The art works are for sale and vary between € 25 and € 700.
Read more about Studio Kurtycz or follow them on Facebook.
The exhibition can be seen during office hours in the corridors on the third floor and in the library (ground floor) of the Pieter de la Court building.
Date, time and location
09 January 2017

to

11 May 2017
Posted on 9 December 2016, last modified on 12 May 2017