Tycho van der Hoog quoted in ApeTime Magazine about Namibian beer history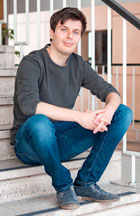 Tycho van der Hoog was quoted in ApeTime Magazine about the role of beer in Namibian history. Using Van der Hoog's book 'Breweries , Politics and Identity: The History Behind Namibian Beer', the article explains how in the German colonial era beer became a political tool for the colonial authorities to take repressive measures against the Namibian people.
Read the full article (in Italian).
Posted on 8 December 2022, last modified on 8 December 2022