Tycho van der Hoog interviewed about the AU joining the G20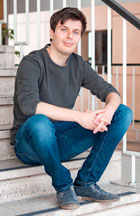 PhD candidate Tycho van der Hoog was interviewed by Spotlight radio about the significance of the African Union joining the G20. Van der Hoog explains that the AU's membership means recognition of the growing importance of Africa in the international scene.
Read more and listen to the interview (in Dutch).
Spotlight is the media channel of the School for Journalism in Utrecht.
Posted on 21 September 2023, last modified on 21 September 2023