Tribute to Stephen Ellis and book launch 'This Present Darkness'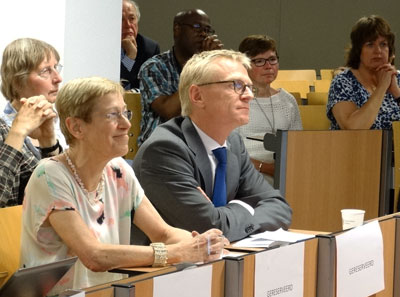 The African Studies Centre presented the last book by its renowned colleague Professor Stephen Ellis (1953-2015), This Present Darkness: A history of Nigerian organised crime, on 9 June. The book was published posthumously in April. Former colleagues and friends paid tribute to Ellis, who was regarded as one of the key researchers in African Studies in the world.
As Professor Ton Dietz, director of the ASCL, said: Stephen Ellis was the ASCL's most prominent and influential researcher. Ellis was also a Desmond Tutu Professor at the VU University, Amsterdam. He was excellent in 'uncovering hidden truths', Dietz said. For example: in one of his latest books he revealed Nelson Mandela's membership of the South African Communist Party. 'He made people angry, but the truth was most important to him', Dietz said. 'When the whole world talked about 'Africa rising', and Stephen argued the opposite, some people accused him of giving Africa a bad name.'
Quest for the truth
His quest for the truth was evident before he became a scholar. Ellis, born in Nottingham, read history in Oxford, worked at Amnesty International's Secretariat in London as West Africa researcher, and later as a journalist, e.g. for Africa Confidential. Interestingly, Ellis' widow Professor Gerrie ter Haar revealed that the conviction of former Chadian dictator Hissène Habré to life imprisonment, last May, was made possible to a large extent because of evidence from the meticulously detailed information Ellis had left in the archives at Amnesty; information assembled during his research on human rights violations in Chad in the early 1980s, during the period of Habré's brutal regime.
Being the author of a ground-breaking book on the civil war in Liberia (The Mask of Anarchy: the destruction of Liberia and the religious dimension of an African civil war, 2001), Ellis testified in the trial against former President Charles Taylor on crimes of war committed in Sierra Leone. And not long before he died, Ellis was actively engaged in a court case in Belgium to assist the prosecutor in gathering evidence against another Liberian war criminal.
Pursuing the truth was what Ellis considered a vital part of the task of a historian, Gerrie ter Haar said. 'In his way of thinking, historians need to engage with the history of contemporary Africa both as a way of casting new light on Africa's more remote past and as a way to understand the present.'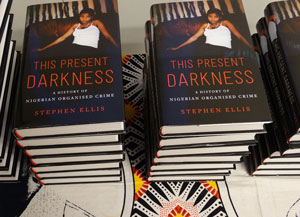 History of Nigerian organised crime
In his latest book, Ellis lays bare the historical roots of organised crime in Nigeria. The book traces its origins to the last years of colonial rule, when nationalist politicians acquired power at a regional level. In need of funds for campaigning, they offered government contracts to foreign businesses in return for kickbacks, in a pattern that recurs to this day. Political corruption encouraged a wider disrespect for the law that spread throughout Nigerian society. When the country's oil boom came to an end in the early 1980s, young Nigerian college graduates headed abroad, eager to make money by any means. Nigerian crime went global at the very moment new criminal markets were emerging all over the world. Organised crime in Nigeria, Ellis shows, has its roots in the specific history of the country.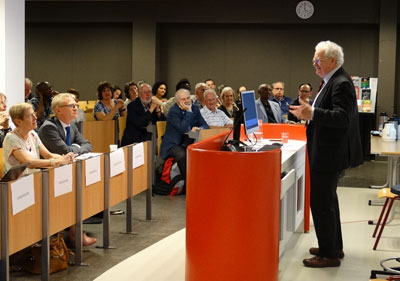 Former colleague and friend Professor Christopher Clapham from the Centre of African Studies, University of Cambridge, called This Present Darkness 'a great monument of one of the great Africanists of our time. It must have been a triumphant moment when he finished it.' At the time of writing, Ellis suffered from leukemia and worked on the book manuscript as long as his illness allowed him to. Clapham said he felt some concern with Ellis writing this book: 'Writing about this kind of subjects does leave you with some vulnerability with the persons you have written about'.
Still, Ellis assisted - at their request - the Dutch police in their investigations of some notorious '419' scams by Nigerian fraudsters, and collaborated with the Financial Crime Unit of the Toronto police in Canada. At the same time, he approached every situation without prejudice, Gerrie ter Haar said. 'As one friend put it, Stephen never thought in terms of goodies or baddies but instead tried to understand the human frailties that have helped situations to develop the way they have.'
Stephen Ellis and Gerrie ter Haar worked together on the subject of religion and politics in Africa. 'Over the years, Stephen became acutely aware of the significance of religion', Ter Haar said. Also in This Present Darkness, he highlights the importance that many Africans among all sectors of society, irrespective of rank and education, assign to the spirit world.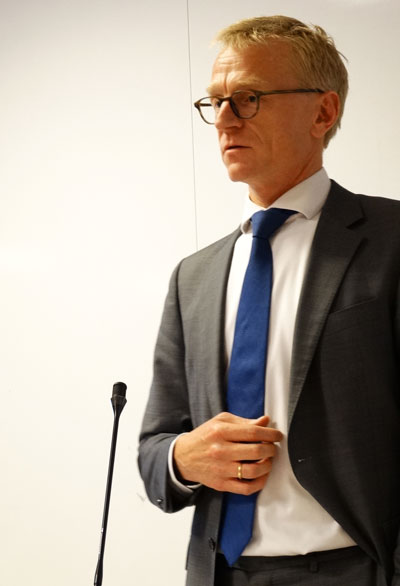 Ministers of Foreign Affairs
Sanne Kaasjager from the Netherlands Ministry of Foreign Affairs praised Stephen's broad experience as a scholar, activist and journalist, on behalf of the Ministry. 'Former Minister Pronk was the first to appreciate his contribution and knowledge, and all ministers have since.' He explained that the Netherlands cooperate with Nigerian institutions to fight corruption. 'Stephen's book helps us to analyse the systems, to see the historical side of things', he said. 'We policy advisers are not sufficiently aware of the blanket of history. We might take a minute longer to think about this.' All policy advisors who start to work at the Ministry are given Ellis' book Season of Rains as compulsory literature. 'And when I give presentations about Africa, I always use a quote from Stephen: "We have to accept that Africa can teach us a thing or two".'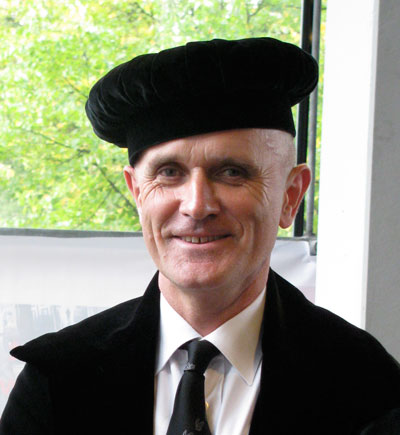 Bio Stephen Ellis
Stephen Ellis was born in Nottingham on 13 June 1953. He read history at the University of Oxford. He went to Africa when he was eighteen years old, where he worked as a teacher in Douala, Cameroon. In 1981 he did his doctoral exam on a revolt in Madagascar in the late 1890s. Ten years later, Stephen became the general secretary and later director of the African Studies Centre in Leiden, followed by an assignment for the Netherlands Ministry of Foreign Affairs and a position as senior researcher at the ASC. Among his most popular books are: The Criminalization of the State in Africa (with Jean-François Bayart and Béatrice Hibou) and The Mask of Anarchy, a ground-breaking study of the civil war in Liberia. Other books that became well-known are Worlds of power: Religious thought and political practice in Africa (with his wife Gerrie ter Haar) and Season of Rains: Africa in the World, an overview of Africa's place in contemporary history. Stephen Ellis died of leukemia on 29 July 2015 at his home in Amsterdam.
Fenneken Veldkamp
Lees dit artikel in het Nederlands op de website van de Universiteit Leiden.
Posted on 13 June 2016, last modified on 11 July 2016