Towards an itinerary of ideas. Intertextual mapping in the rhetoric of Nelson Mandela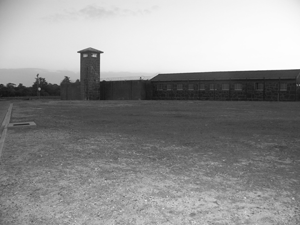 The Robben Island prison where Mandela spent the majority of his 27 years in jail. In April 1982, he was moved to Pollsmoor prison in Cape Town.
Photo: Stephanie Cawood
This paper explores explicit and implicit forms of intertextuality in the rhetoric of Nelson Mandela. Intertextuality is viewed as a mechanism of thought and part of the process of dianoia in Classical rhetoric as conceptualised by Aristotle and is also considered crucial in the ethos of a rhetor. The research is founded on the idea that all rhetors have a particular rhetorical imprint, that is a deep-seated impression derived from a cognitive core structure ordering experience and communication and present in all the rhetoric of that individual. Intertextual cues were sought in Mandela's corpus of speeches, biographies, autobiography, anthologies of personal documents, the historical context and discourse communities he engaged with. When read against the historical context of the time, these texts provide insight into the dynamics of message production, personal relationships, personal beliefs and the contexts surrounding the production of certain texts and the discourse communities he engaged with. Biographical cues were sought in his upbringing in Xhosa culture, his mission school education, his political awakening in Johannesburg, his life in the struggle, his long prison term, the years after release and presidency. Thus far, explicit mappings include Afrikaans literary voices, Shakespeare and the 'classics', colleagues and friends from the struggle period, instances of self-referential intertextuality as well as intercontextuality of signs and symbols. The implicit mapping includes Churchill, the Gandhi-Nehru web of intertextuality, a Marxist-Socialist web including voices such as Castro and biblical allusion. To date, the most significant intertextuality found in Mandela's rhetoric is the Gandhi-Nehru web with Nehru playing a particularly influential role in Mandela's conception of struggle and his own life in that struggle.
This article has been published as volume 134 of the African Studies Centre Working Papers.
About the author(s) / editor(s)
Stephanie Cawood is a Senior Lecturer in the Centre for Africa Studies at the University of the Free State (South Africa) as well as Programme Director of the Programme for Africa Studies in the Centre. She teaches in the Africa and Gender Studies programmes and is involved in postgraduate supervision. She was a Visiting fellow at the ASCL from April - June 2016.
Posted on 27 June 2016, last modified on 29 June 2016