Tourism, Climate Change and Biodiversity in Sub-Saharan Africa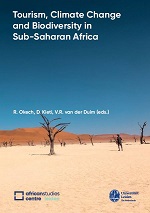 This book honours Bob Wishitemi, Professor of Tourism and Wildlife Management at Moi University. Commemorating his death in 2021, this book includes articles by his former colleagues and other scientists who worked with him over the years. The volume presents a variety of approaches to tourism, climate change and biodiversity in Sub-Saharan Africa.
A significant legacy of Prof. Wishitemi is his contribution to academia. His work on biodiversity, conservation (protected) landscapes, culture, communities and tourism are used as reference materials in tertiary level teaching and research in Kenya, East Africa and beyond. He was not only a mentor to many, but a friend to a lot more.
This book appeared as an ASCL Occasional Publication, volume 46.
Author(s) / editor(s)
R. Okech, D. Kieti & V.R. van der Duim (eds.)
About the author(s) / editor(s)
Prof. Roselyne Okech is a Professor of Tourism Management at Memorial University of Newfoundland, Canada.
Prof. Damiannah Kieti is an Associate Professor and Deputy-Vice Chancellor Finance, Planning and Development at KCA University, Kenya.
Prof. René van der Duim is Emeritus Professor by special appointment in Tourism and Sustainable Development at Wageningen University & Research, the Netherlands.
Full text, catalogue, and publisher website
Posted on 2 February 2023, last modified on 13 March 2023