The Tigray Conflict in Ethiopia: Post-War Ramifications and International Response
Nearly three months after the Ethiopian federal army took over the northern Tigray region of the country in a well-organized and rapid offensive, the structure of the Tigray People's Liberation Front (TPLF) - the political party in power for thirty years before Prime Minister Abiy Ahmed - has been dismantled and its leaders killed, arrested, or under pursuit, Jon Abbink writes in a new blog post for IPI Global Observatory. While the situation on the ground is far from normal, some stability is gradually returning to daily life and economic activity.
About the author(s) / editor(s)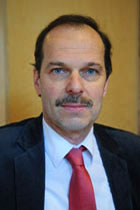 Prof. Jon Abbink is an anthropologist-historian and carries out research on the history and cultures of the Horn of Africa (Northeast Africa), particularly Ethiopia.
Full text, catalogue, and publisher website
Posted on 26 January 2021, last modified on 26 January 2021