Spaces of insecurity. Human agency in violent conflicts in Kenya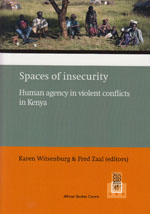 There are regions in the world where socio-economic deprivation, ecological marginality, political exclusion, poverty and violence all seem to converge. The cases presented in this book describe the various violent conflicts in rural Kenya and aim to understand spatial insecurity while searching for explanations beyond the mainstream narratives that blame poverty, ethnic diversity, resource scarcity or rapid cultural transition for violent conflicts. "Spatial insecurity' is a societal context that people themselves shape, make use of, exploit and suffer from. The overall conclusion is that 'ethnic identity' can no longer be used as a refuge behind which violent conflict can be justified.
African Studies Collection 45
ISBN 978-90-5448-120-1
Full text (free of charge)
Author(s) / editor(s)
Karen Witsenburg & Fred Zaal (editors)
How to order
You can order this publication by sending an email to: asc@ascleiden.nl. The price of the book is €15,- (postage not included).
Posted on 14 December 2012, last modified on 18 December 2012