Seminar: The Oriental African: Assessing 200 years of Khōjā Asian Islamic heritage in East Africa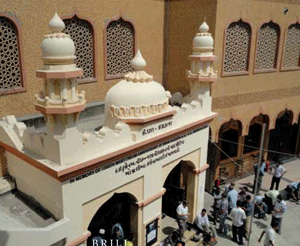 The Khōjā migration from South Asia to Zanzibar in the early nineteenth century was an entrepreneurial migration into the undeveloped economies of the African continent. The Indic Khōjā religion transformed after contact with the Omani, Swahili, and Bharani communities to a more orthodox expression of Islam, as found in the Near East. Economic and political changes meant social transformation and adoption of Swahili and English as a vernacular, at the expense of Gujarati and Kacchī. Language encodes ancestral knowledge, worldviews, and idioms that reflect the historical development of a people over time and space. The loss of Indic languages meant a profound rewriting of Khōjā identity from an Indic caste to an aspirant nation of the umma, 'the community of believers'. Yet, a caste identity sits uncomfortably with this egalitarian religious imperative. It is a community in movement between East and West, shifting resources and expertise, yet not diasporic. The tensions and contractions of contemporary Khōjā identity provide insights into understanding the significance of South-South movements on the development of modern Muslim communities.
Akhtar's recent book on which this seminar is based, will be sold at the seminar for a reduced price of € 50,-.
This seminar has been organized together with the International Institute for Asian Studies in Leiden. After the seminar, drinks will be offered by Brill Publishers.
Speaker
Iqbal Akhtar, joint visiting fellow IIAS/ASCL
Iqbal Akhtar is an assistant professor of religious studies and international relations at Florida International University in Miami. He is also the research director for the Western Indian Ocean Studies programme. His recent monograph, 'The Khōjā of Tanzania', charts the development of Khōjā religious identity over two centuries in Tanzania.
Date, time and location
Pieter de la Courtgebouw / Faculty of Social Sciences, Wassenaarseweg 52, 2333 AK Leiden
Posted on 17 February 2016, last modified on 23 March 2016