Seminar: Islam, Youth, and Modernity in the Gambia: The Tablighi Jama'at
The emergence in the Gambia over the past decade of the transnational Islamic missionary movement Tablighi Jama'at, which has its origins in the reformist tradition in India in the mid-nineteenth century, is the focus of this seminar. It explores how a movement originating in South Asia could appeal to a West-African Muslim population, particularly women and youth, to such an extent that 'converts' have been willing to abandon their youthful pursuits and transgress generational and gender boundaries for a life devoted to God. Tracing the biographical narratives of five Gambian Tablighis, the book the seminar is based on provides an understanding of the ambiguities and contradictions young people are being confronted with in their (re)negotiation of Muslim identity and the strategies they are deploying in manoeuvring between being young and being Muslim. These narratives together form a picture of how Gambian youth are going about their lives within the framework of neo-liberal reforms and renegotiated parameters informed by the Tablighi model of how to be a 'true' Muslim. At a time when a school diploma or even a university degree is no longer considered sufficient to secure upward social and economic mobility and thus a successful life, young Gambians have found that the Jama'at offers ways of making Islam compatible with emerging configurations of progress, morality, personhood and intergenerational and gender relationships.
Photo: Marloes Janson
Click here for the 20% discount flyer of Marloes Janson's book.
This seminar is organized together with the Department of Cultural Anthropology, Leiden University.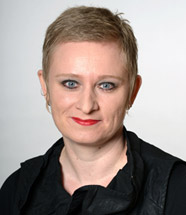 Marloes Janson has a PhD in cultural anthropology from Leiden University. She is a lecturer in anthropology at SOAS, University of London, and was previously a researcher at the Centre for Modern Oriental Studies (ZMO) in Berlin. Janson has conducted extensive ethnographic field research in the Gambia, Senegal, and Nigeria, and currently edits the book reviews section in the Journal of Religion in Africa.
Date, time and location
Pieter de la Courtgebouw / Faculty of Social Sciences, Wassenaarseweg 52, 2333 AK Leiden
Posted on 3 December 2013, last modified on 13 December 2013