Seminar: African Rentiers and Chinese Entrepreneurs: Local-Global Entanglements in South Africa's Rural Towns
Most research on Sino-African relations has focused on the macro level, i.e. on globalization-from-above, and the construction of infrastructure projects, bilateral aid and resource extraction by Chinese state-operated enterprises. Yet for many South-Africans, relations with China are being experienced more tangibly through the vast quantities of cheap consumer goods that have appeared in local markets and the presence of Chinese traders who are not only shopkeepers but also tenants of property owned by South Africa's black middle class.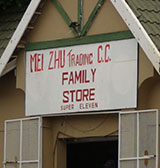 China shops
In this seminar, Africa Thesis Award Winner 2012 Nkululeko Mabandla (Centre for African Studies, University of Cape Town) focuses on the transformation from farming to real-estate development among South Africa's black land-owning middle class since the 1990s. Due to the scarcity of rental property in rural areas, real-estate entrepreneurship has become a highly lucrative enterprise. For example, a small shop (around 20 m2) can be rented out for about 5000 Rand a month in Seapoint, one of Cape Town's more expensive neighbourhoods, but rents for a similar sized shop are double this sum in the rural town of Tsolo (Eastern Cape). While such high rents are a struggle for many South African entrepreneurs, who continue to hawk their goods on the streets, they do not seem to deter international migrants who have slowly established themselves in South Africa's rural towns over the last ten years. There may not be many South African stores in towns such as Tsolo, Maclear or Mount Frere, but the consumption needs of the local population are being met since there is a profusion of so-called China Shops that are now a feature of many rural towns.
Changing consumption patterns
The analysis in this seminar of these local-global entanglements will concentrate on nodes of interaction between local and global actors and show how these processes are leading to forms of class realignment and changing patterns of consumption in South Africa's rural towns.
Speaker
Nkululeko Mabandla, Centre for African Studies, University of Cape Town
Back to South Africa after political exile Nkululeko Mabandla founded, in the 1990s, the People's Learning Theatre Organization and worked as a consultant in the areas of management of change and organisational development. Among other things Nkululeko has worked in the Film and TV industry as an actor, director and script writer. In 2010, he went back to further his education which had been cut short by his anti-apartheid activism and graduated at UCT's Sociology department in 2012. He is currently working at the Centre for African Studies (UCT) working on globalization and the transformation of rural towns in South Africa.
Date, time and location
Pieter de la Courtgebouw / Faculty of Social Sciences, Wassenaarseweg 52, 2333 AK Leiden
Posted on 22 October 2013, last modified on 23 January 2014