Seminar: Africa: Opportunities and Challenges - A view from the IMF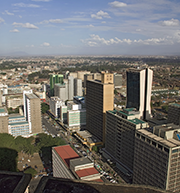 This seminar took place on 22 November. Read the latest IMF Report 'Regional Economic Outlook: Sub-Saharan Africa'. You can read Roger Nord's presentation here.
Over the past fifteen to twenty years, an increasing number of countries in Africa have been experiencing robust and sustained economic growth. During the recent global recession, many African countries proved quite resilient. What explains this strong economic performance? Is it just a reflection of high commodity prices or have African economies become more competitive? What role have new partners such as China and India played? Despite high growth, significant challenges remain. How to reap the full benefits of natural resource wealth? How to address large infrastructure gaps? How to share the benefits of economic growth more widely? And looking further ahead: how to ensure that the demographic dividend is a blessing not a curse?
Roger Nord (Dutch nationality) is Deputy Director of the IMF's African Department. He oversees country operations in East Africa and francophone West Africa. Nord also leads the work on public finance issues in Africa. Previously, he was IMF mission chief for several African countries, including Tanzania, Uganda, Cameroon and Gabon. Among his recent publications, he was the lead author of Tanzania: The Story of an African Transition (2009). Before joining the African Department, he was advisor to IMF Managing Director Horst Köhler and the IMF's regional representative in Central Europe.
Date, time and location
Pieter de la Courtgebouw / Faculty of Social Sciences, Wassenaarseweg 52, 2333 AK Leiden
Posted on 25 October 2013, last modified on 29 November 2013