Royal decoration presented to former ASCL director Ton Dietz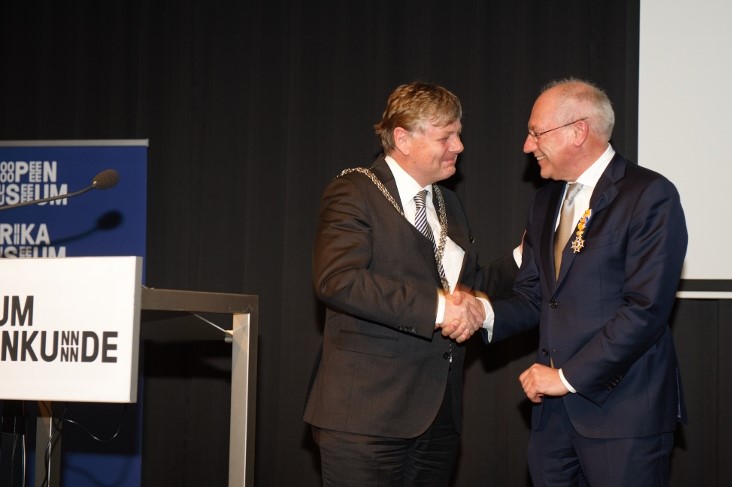 Prof. Ton Dietz was knighted as an Officer in the Order of Orange-Nassau at the end of the Annual Meeting of the Leiden African Studies Assembly on 7 December. Prof. Dietz, who retired as the director of the African Studies Centre Leiden on 1 September, was taken by surprise when the mayor of his hometown entered the stage in Museum Volkenkunde Leiden, where the Annual Meeting took place.
According to the mayor, Mr Elbert Roest, Prof. Dietz has developed the African Studies Centre Leiden into an institute with great societal impact. Mr Roest said Prof. Dietz has been dedicated to present a different image of Africa and that he showed the own strength of African people. Under Ton Dietz's directorship more than 1200 publications were written by ASCL researchers, and he supervised dozens of PhD candidates. Prof. Dietz's deep involvement with societal organisations like the Liliane Foundation, Both Ends, SOS Children's Villages, Stichting Medische Hulp Kenia, World Connectors and the Prins Claus Chair has been of equal importance, the mayor said. Read the full speech.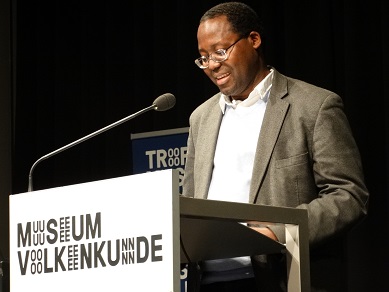 Earlier during the Annual Meeting Prof. Elísio Macamo gave a keynote speech entitled: 'If Africans could Speak: Knowledge and Authority in African Studies'. Prof. Macamo said research in African Studies appears to be not only about producing knowledge but also about showing concern. But concern undermines scholarship because of normative prejudices; concern is about the researcher himself or herself. Prof. Macamo also made the statement that there is no such thing as an African scholar. 'You don't speak as an African scholar.' It's impossible to claim such a position without undermining the concept of scholarship, he said. The position from where we see does not confer authority; authority is derived from speaking in an intelligible way.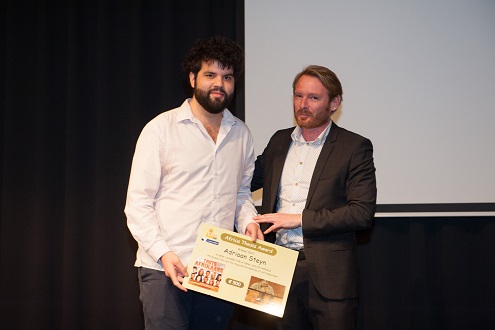 Another highlight of the Annual Meeting was the presentation of the Africa Thesis Award 2017 to its winner, Adriaan Steyn - alumnus of Stellenbosch University - by the chair of the jury, Dr Yves van Leynseele. Adriaan Steyn gave an enlightening presentation about his thesis A new laager for a 'new' South Africa: Afrikaans film and the imagined boundaries of Afrikanerdom. According to Steyn, the rapidly expanding Afrikaans film industry (more Afrikaans films are released than in any of the other ten official languages of South Africa, and these films are consumed mainly by white Afrikaans-speakers) portrays not an image of the rainbow nation that South Africa wants to be, but rather of an isolated Afrikaner community. Read Adriaan's presentation.
Watch the trailers of a number of films discussed by Adriaan:
Liefling: https://www.youtube.com/watch?v=pulpyo84rdg
Pad na jou hart: https://www.youtube.com/watch?v=n-mAClpgqjE&t=29s
Hollywood in my Huis: https://www.youtube.com/watch?v=qYGEXJHo-Ys
Mooirivier: https://www.youtube.com/watch?v=VrY916LyhuY
Treurgrond: https://www.youtube.com/watch?v=Yo7sQXxXVLc
Noem my Skollie: https://www.youtube.com/watch?v=fTr3ZNLJt-U&t=2s
The keynote by Prof. Elísio Macamo will be published as soon as it becomes available.
Posted on 8 December, 2017. Last modified on January 17, 2018