Routledge Handbook of the Horn of Africa
The Routledge Handbook of the Horn of Africa provides a comprehensive, interdisciplinary survey of contemporary research related to the Horn of Africa. Situated at the junction of the Sahel-Saharan strip and the Arabian Peninsula, the Horn of Africa is growing in global importance due to demographic growth and the strategic importance of the Suez Canal. Divided into sections on authoritarianism and resistance, religion and politics, migration, economic integration, the military, and regimes and liberation, the contributors provide up-to-date, authoritative knowledge on the region in light of contemporary strategic concerns. The handbook investigates how political, economic, and security innovations have been implemented, sometimes with violence, by use of force or by negotiation – including 'ethnic federalism' in Ethiopia, independence in Eritrea and South Sudan, integration of the traditional authorities in the (neo)patrimonial administrations, Somalian Islamic Courts, the Sudanese Islamist regime, people's movements, multilateral operations, and the construction of an architecture for regional peace and security.
The book was co-edited by Jon Abbink, who wrote the chapters 'Introduction: authoritarianism, innovative regimes, and forms of resistance' (pp. 251-254) and 'The looming spectre: a history of the 'state of emergency' in Ethiopia, 1970s–2021' (pp. 302-316). ISBN: 9781138353992.
About the author(s) / editor(s)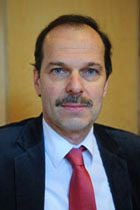 Jon Abbink is an anthropologist-historian and carries out research on the history and cultures of the Horn of Africa (Northeast Africa), particularly Ethiopia. He is Professor Emeritus of Politics and Governance in Africa at Leiden University.
Full text, catalogue, and publisher website
Posted on 2 May 2022, last modified on 12 May 2022