Round table: An African precariat? Africa's informal workers and inclusive development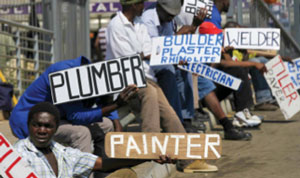 The ASCL and the School of Oriental and African Studies (SOAS) in London, hosted the third Roundtable on Labour Issues and Trade Unions in Africa on 15 December 2015. Read the report. Authors: Zjos Vlaminck (ASCL) en Mark McQuinn (SOAS).
The Roundtable brought together academics, practitioners, as well as policy-makers interested in the challenges and opportunities for African workers' organisations in a time of increased informalisation. Prominent scholars Prof. Guy Standing and Prof. Jan Breman presented their conceptual frameworks on processes of 'flexibilisation' and 'informalisation', or 'precarisation', in the world. Building on these insights, practitioners and academics reflected on the relevance of such theories for labour and workers' organisations in Africa.
Read the presentation by Dorcas Ansah.
Read the presentation by Tim Pringle.
Read the presentation by Jan Breman.
Read the presentation by Mark Mc Quinn.
Read the presentation by Zjos Vlaminck and Kassim Assouma.
For more information, contact Zjos Vlaminck: z.vlaminck@ascleiden.nl.
Date, time and location
9.30 - 17.15, followed by drinks.
Poortgebouw, Rijnsburgerweg 10, 2333 AA Leiden (leave Leiden Central Station through back entrance, cross the square, the Poortgebouw is right in front of you.)
Posted on 5 November 2015, last modified on 17 March 2016