Poëzieavond: Antjie Krog en De Klimaatdichters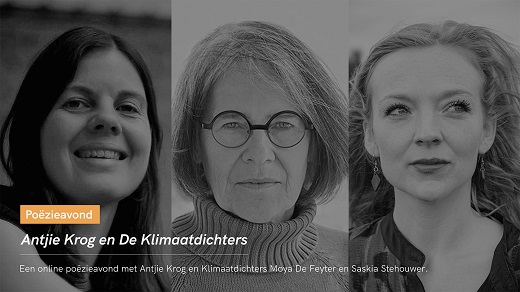 Een online poëzieavond met Antjie Krog en Klimaatdichters Moya De Feyter en Saskia Stehouwer. Voertaal: Nederlands en Afrikaans. This event will be held in Dutch and Afrikaans.
Het werk 'Broze aarde' van Antjie Krog is geschreven in de vorm van een requiem, de vaste mis voor een overledene. In dit geval is de overledene de door de mensen verwaarloosde aarde. Tegelijk roept de tekst op om als mens oog te hebben voor elkaar. Immers:
'Hoe kan ons die aarde versorg as ons mekaar nie versorg nie / hoe kan ons die mense versorg as ons die aarde nie versorg nie'
Dit thema vormt de aanleiding voor een gesprek tussen Antjie Krog en De Klimaatdichters over hoe poëzie woorden kan geven aan de schoonheid van de natuur maar ook aan diepe bezorgdheid over de toekomst van de aarde. Uitgangspunt is aandacht en zorg voor planeet én mens. Het gesprek zal worden afgewisseld met poëzievoordrachten. Ook het online publiek krijgt de gelegenheid om te reageren en vragen te stellen.
Datum: 10 november 2021
Tijd: 19.30-20.45
Online evenement
Zoom-link: https://universiteitleiden.zoom.us/j/67062857687?pwd=OWV3SVZvSUZ5WEk2cXdzb3g1MFBTZz09
Organisatie: Afrika-Studiecentrum Leiden, Zuid-Afrika Huis, Leiden University Centre for the Arts in Society
Gespreksleider: Margriet van der Waal, bijzonder hoogleraar Zuid-Afrikaanse letterkunde, cultuur en geschiedenis aan de UvA vanwege de stichting Zuid-Afrika Huis Nederland, en universitair docent Euroculture aan de Rijksuniversiteit Groningen.
Antjie Krog (Kroonstad, Zuid-Afrika, 1952) is een wereldberoemd dichter, schrijver en academicus. In Nederland is ze bekend door haar vele optredens bij Poetry International en Winternachten; in 2018 won ze de Gouden Ganzenveer. Haar dichtkunst handelt over moederschap, vrouw zijn, schrijverschap, het ouder wordende lichaam, en haar liefde voor het land en het natuurlijke landschap. Ook haar worsteling over hoe om te gaan met sociaaleconomische ongelijkheid, racisme en discriminatie in Zuid-Afrika komen veelvuldig aan bod. Centraal in haar recente werk is de vraag hoe men met elkaar medemenselijk kan voortbestaan en hoe het zorgen voor elkaar, voor andere levende organismen en de (natuurlijke) omgeving waarin we afhankelijk van elkaar zijn, talig geuit kan worden. Antjie Krog is coördinator Afrikaans van het UWC Creates Programmes aan de University of the Western Cape. Momenteel is zij Writer in Residence aan de Universiteit van Gent.
Op 18 november houdt Krog de Albert Verweylezing aan de Universiteit Leiden. (Foto: Antonia Steyn)
De Klimaatdichters is een snel groeiende beweging van Vlaamse en Nederlandse woordkunstenaars. Geïnspireerd door Poets for the Planet strijden zij met poëzie in al haar verschijningsvormen voor een klimaatvriendelijke wereld.
Moya De Feyter (1993, Brasschaat) schrijft poëzie, theaterteksten en proza. Met haar optredens haalde ze zowel in 2012 als 2017 de Write Now!-finale. Haar eerste dichtbundel, Tot iemand eindelijk, werd genomineerd voor de Poëziedebuutprijs aan Zee. In 2019 volgde Massastrandingen, een caleidoscopisch prozagedicht over het klimaat, zeezoogdieren, sinaasappelbomen, stormen en de liefde, dat in mei 2021 werd bekroond met de J.C. Bloem-poëzieprijs. De Feyter studeerde Literatuur- en Theaterwetenschappen aan de Universiteit Antwerpen. Haar werk wordt gepubliceerd door Uitgeverij Vrijdag. De Feyter is de initiatiefnemer van De Klimaatdichters. (Foto: Sebastian Steveniers)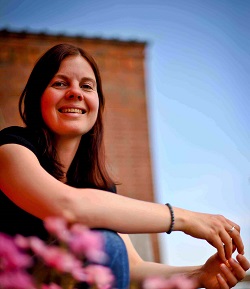 Saskia Stehouwer (1975, Alkmaar) studeerde Nederlands en Engels. In oktober 2014 verscheen haar debuutbundel wachtkamers, die bekroond werd met de C. Buddingh'-prijs 2015. Stehouwers tweede bundel verscheen in oktober 2016 onder de titel vrije uitloop. In juni 2019 zag Stehouwers bijzondere derde dichtbundel, Bindweefsel, het licht. Deze bundel is geheel handgeschreven op zelfgeschept papier van plantenresten en fruitafval, en kan na lezing op de composthoop worden gelegd om weer op te gaan in de natuurlijke kringloop. Haar werk wordt gepubliceerd bij uitgeverij Marmer. Stehouwer is een van de kerngroepleden van de Klimaatdichters. (Foto: Rosa van Ederen)
Posted on 13 October 2021, last modified on 8 November 2021