Photo exhibition by Roel Burgler: School? Yes please! Education in Guinea-Bissau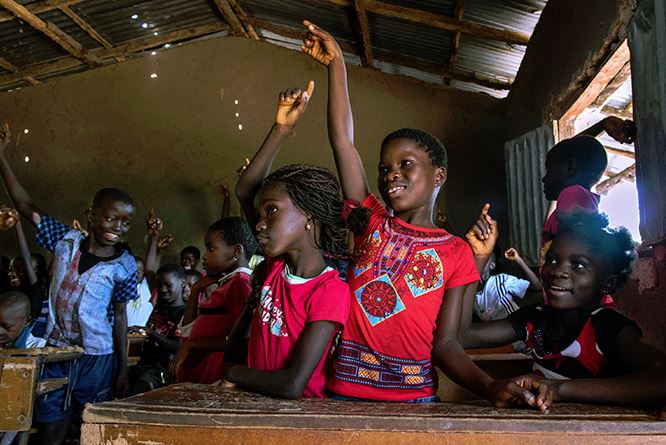 The former Portuguese colony of Guinea-Bissau is one of the poorest countries in the world. There are practically no social services, two thirds of the population lives under the poverty line, a good infrastructure is lacking and the country has a barely functioning government.
This inevitably has severe consequences for the quality of education. Schools are not well maintained, if at all. Classes are overcrowded and teachers often unpaid, which regularly leads to strikes. Due to the poor education system parents often try to set up schools themselves and find the means to pay for teachers. Such initiatives can range from a ramshackle mud hut in the bush, with one teacher for four classes, or a kindergarten in town with uniforms for the children and a meal at lunch time.
There is also much need for improvement in the area of vocational training for adolescents. Many youngsters have had no training and learnt no skills with which to provide for themselves. Here too, private initiatives arise. Thanks to support from employers at various levels, youngsters can get practical, on the job experience. For example on building sites, in a simple restaurant or even in a luxury hotel.
Roel Burgler made this reportage in cooperation with SOS Children's Villages. This NGO believes that children who have lost or are in threat of losing the care of their parents should, as much as possible, be taken care of within their own community. It is one of the organizations in Guinea-Bissau working to create more access to better education and vocational training. Education, after all, is the key to a better future.
Take a look at Roel Burgler's website
There will be an introductory talk by Roel Burgler and Mieke Hartveld, SOS Kinderdorpen, soon.
The exhibition can be seen during office hours in the corridors on the third floor of the Pieter de la Court building.
Date, time and location
01 November 2017

to

31 January 2018
Posted on 10 October, 2017. Last modified on December 8, 2017