PhD Defence Yinebeb Nigatu Tessema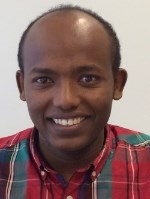 Due to the coronavirus measures of Leiden University this PhD defence will take place digitally. The defence can be followed via a livestream.
On 7 May at 13:45 hrs., Yinebeb Nigatu Tessema will defend his dissertation 'Political Discourses and the Securitization of Democracy in Post-1991 Ethiopia' at Leiden University. Read the abstract.
Yinebeb Nigatu Tessema is a project researcher at the African Studies Centre Leiden. He coordinates the project 'Strengthening the Reform Agenda: Enhancing economic opportunities and inclusive patterns of regional governance', a project focusing on the Oromia and Amhara regions of Ethiopia. He is a PhD candidate at the Faculty of Governance and Global Affairs of Leiden University (Institute of Security and Global Affairs).
Promotor: Prof. Dr Madeleine Hosli
ASCL Doctoral Committee Secretary: Prof. Dr Jan Abbink
Posted on 3 April 2020, last modified on 6 May 2020