PhD defence Ibrahima Poudiougou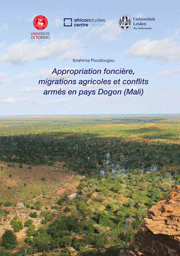 On 12 October at 3 p.m. (sharp), Ibrahima Poudiougou (LU/Turin cotutelle) will defend his dissertation Appropriation foncière, migrations agricoles et conflits armés en pays Dogon (Mali).
This thesis describes the socio-political dynamics in Dogon country, in central Mali. Since 2015, this region has experienced an unprecedented phenomenon of armed mobilisation. Various insurgent (jihadist) and counterinsurgent (self-defence) groups are fighting to impose new modes of rural governance on village communities by means of violence, despite the deployment of the Malian Armed Forces (FAMA) and contingents of the UN forces (MINUSMA). Using an ethnographic approach and proceeding in processual and analytic manner, this thesis examines the armed mobilisations and the violence they generate as deriving from interactions between several phenomena specific to rural societies, notably land. In their historical context, Dogon societies consider the land to be at the heart of political, economic, and religious power issues, for which it serves as a source of legitimacy. As a result, land and its resources give rise to claims, contestations, and continuous renegotiations of socio-political relations.
Registration is not required. Please note that admittance to the Great Auditorium after 3 p.m. is not possible.
Date, time and location
Academy Building, Rapenburg 73 Leiden
Posted on 17 August 2023, last modified on 17 August 2023