Oude wortels, nieuwe scheuten - een zoektocht in wereldbeelden. Dilemma's voor modernisering in de landbouw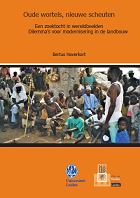 Oude wortels, nieuwe scheuten
gaat over de dilemma's van modernisering in de landbouw. Het is een verslag van een persoonlijke zoektocht in internationale samenwerking. Het beschrijft vallen en opstaan, fouten maken en opnieuw proberen.
Bertus Haverkort is de oudste zoon van een boerengezin op de zandgronden in Slagharen. Hij geniet van modernisering op de boerderij van zijn jeugd, omdat dit het werk verlicht en de opbrengsten verbetert. Met in zijn bagage een dosis moderne landbouwkennis uit Wageningen, trekt hij eropuit. In Colombia, India, Bolivia en Ghana werkt hij aan programma's waarbij overdracht van westerse kennis het doel is. De resultaten vallen tegen. De aanpak blijkt niet te werken. Hij plaatst geleidelijk aan vraagtekens bij de toepasbaarheid van de westerse kennis in situaties waar de ecologie, economie en cultuur zoveel verschillen.
Bertus gaat nauw samenwerken met deskundigen uit India, Bolivia en Ghana en samen verdiepen ze zich in de manieren waarop wereldbeelden, waarden en lokale kennis een rol spelen in de landbouw en gezondheidszorg. Ze stimuleren onderwijs en onderzoek om lokale kennis te verstaan en te versterken. Daarvoor wordt gewerkt aan een onderwijsmethode voor endogene ontwikkeling en aan een benadering voor co-creatie van wetenschappen.
Het leidt tot internationale samenwerking met belangstelling voor elkaars cultuur en kennis. Eenrichtingsverkeer vanuit het Westen maakt plaats voor uitwisseling tussen verschillende culturen en wetenschappen op basis van gelijkwaardigheid.
About the author(s) / editor(s)
Bertus Haverkort studied at Wageningen University & Research. He worked in agricultural extension programmes in the Netherlands, Colombia, Ghana, India and Bolivia. He focused his work on strengthening local farmer's knowledge and cultural diversity. He published books on agro-ecology, participatory learning, endogenous development, worldviews and co-creation of sciences.
Posted on 23 December 2021, last modified on 19 January 2022