NVAS Africa Day in Delft: Africa and technology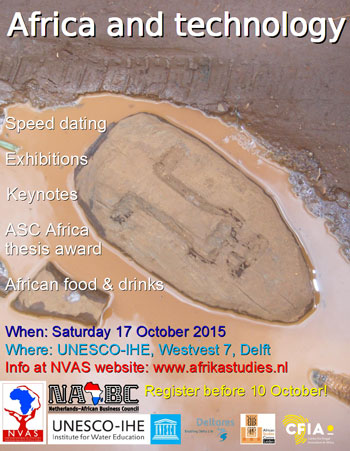 The Netherlands Association of African Studies (NVAS) organizes its NVAS Africa Day to provide a platform for the presentation and discussion of research on technologies that are present in Africa or are aimed at improving life in Africa: from rope making and forging to mobile phones and solar energy. See also the announcement on the NVAS website.
Keynote speakers:
-Jeroen van der Sommen: The data revolution transforming the development sector in Africa
-Victor Langenberg: Food safety in Africa - fishery
-Jan-Bart Gewald: Rocketry in Africa. The life and times of Colonel 'Rocket Man', E.F.M. Nkoloso
Apart from these keynote speeches the programme includes speed dating, exhibitions, presentation of the Africa Thesis Award and African food & drinks. Take a look at the full programme and register before 10 October: fill in the registration form below and send it to Marieke van Winden: winden@ascleiden.nl
The registration fees are € 15 for students and NVAS members, € 25 for others. The fee includes a wonderful programme, an African themed lunch, heated discussions, drinks and snacks.
Date, time and location
UNESCO-IHE Institute for Water Education, Westvest 7, Delft
Posted on 26 February 2015, last modified on 24 September 2015