No-go areas update 13 February 2015
No-go areas according to the Netherlands Ministry of Foreign Affairs, update 13 February 2015.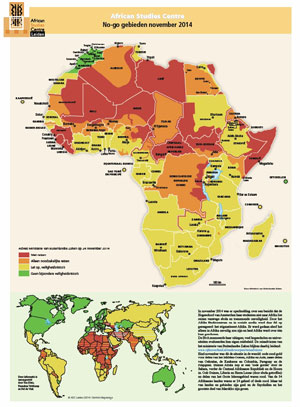 When, at the start of January, the ASC distributed the Thematic Map of so-called 'no-go' areas in Africa and the world, and, on the backside, maps about the Fragile States Index as produced by the US based Fund for Peace, we received many reactions. Some were negative. Yes, it was clear that stigmatising Africa (and all of Africa) as being a 'dangerous no-go area' could be countered effectively: not all of Africa is 'no-go', and there are also no-go areas outside Africa, including in Europe. But, the map made many people realise that quite a large stretch of territory has now been declared as too dangerous to visit. In terms of land area it is close to a third; in terms of population less than 10%, as the area with the red colour covers most of the Sahara. Some people criticised us for doing exactly the opposite of what our intentions were: showing decision makers and the public opinion that large parts of Africa ARE dangerous. Visitors going to these areas (because they have business there or do research) are confronted with 'bosses' who would not allow them to do so, as there are too many risks and most insurance companies do not accept claims from these areas. Also the chances of effective consular assistance are slim, especially in cases of kidnaps for ransom. I still think it is wise to be open about these 'travel advices' and discuss their dynamics regularly. It shows shifts in danger perception, and alerts us to changing circumstances.
Between late November 2014 (when the data for the map were assembled) and Mid-February 2015 there have been three changes, two negative and a mixed one. In Northeast Kenya the area of Wajir and Mandera became no-go areas (from orange to red code, according to the Netherlands Ministry of Foreign Affairs travel advice); this after violent attacks by Al-Shabaab-related militias. In Southeast Niger the area near Nigeria became a no-go zone (from orange to red code) after growing threats by Boko Haram militias. In South Senegal the eastern part of the Casamance became more accessible and lost its orange colour. However, the road near the Coast connecting the Casamance with the Gambia, as well as the more eastern road connecting Senoba in the Casamance to Kaolack, through the Gambia, became orange: high danger, but not yet 'no go'.
We will regularly update these travel advice messages; and you can also look for yourself: www.rijksoverheid.nl/onderwerpen/reisadviezen/inhoud (in Dutch).
Ton Dietz, director African Studies Centre Leiden
Posted on 16 February 2015, last modified on 19 May 2015