New exhibition: 50 year old Nigerian artworks come to Leiden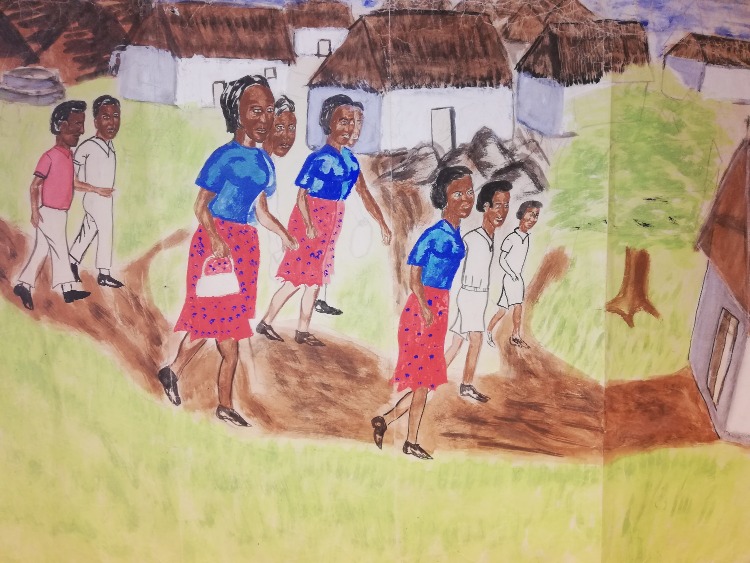 Image: a group of Nigerian youth on their way to church (artist unkown).
Aart Rietveld arrived in Nigeria in the early 1970s to work as a history teacher in the village Toro. There, selected boys followed a five-year course to become a schoolmaster. They resided in the Teacher's College and when lessons were over they spent time playing football and doing athletics. There were also a Fellowship of Christian Students and a Muslim Students' Union.
At the end of 1971, Rietveld made a surprising discovery. Behind an old door he found a stash of artworks painted by ex-students. The school principal told him: "Do with the papers whatever you want," so when it was time to return to the Netherlands, he took the paintings with him. And now they can be seen in Leiden.
The works feature painted huts and the life of working mothers, e.g. a group of women going about their business, with two small men walking behind them, a painting of a beautiful lady, ready to go shopping. The largest painting is a portrait of Yakubu Gowon, the head of state during the Nigerian-Biafran civil war (1967-1970).
Alongside the paintings, a series of photographs of students, teachers, and their work inside and outside the classroom are on display. Other themes include life at Toro, festivals in Jos and Bauchi, life in small villages, farmers and cattle, a truck accident and the 1973 Pan African Games. In sum, this exhibition provides a glimpse of life in this particular part of Nigeria between 1970 and 1973.
For more information, please contact Aart Rietveld using the details below.
Drs. A. Rietveld
0703866808
0622297217
artcursussen@gmail.com
Date, time and location
30 October 2019

to

02 January 2020
Posted on 16 October 2019, last modified on 21 October 2019