Multinationals, Capital Export, and the Inclusive Development Debate in Developing Countries: The Nigerian Insight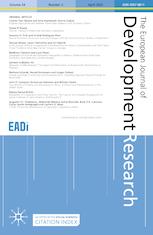 In this paper for The European Journal of Development Research, the authors employed a blend of multiple and historical case study design, and a mix of institutional, behavioral, resource-based, and multinational theories, to examine the nature of multinational companies' (MNC) engagements in local economic development and capital export practices in an African context. For the Nigerian case they analysed FrieslandCampina, Nigerian Breweries Plc. and Dangote Cement.
The original research leading to this article emanated from a wider project on increasing the value of Dutch multinationals for national economies: a comparative study of Kenya and Nigeria. The project was part of the research agenda of the Knowledge Platform on Inclusive Development Policies (2014-2017).
This article appeared in The European Journal of Development Research (2022). ISSN: 0975-8811 (print) or 1749-9728 (electronic).
Author(s) / editor(s)
Ezeoha, Akinyoade, Amobi, Ekumankama, Kamau, Kazimierczuk ao
About the author(s) / editor(s)
Full text, catalogue, and publisher website
Posted on 29 March 2022, last modified on 1 April 2022