More digital books and newspapers on and from Africa available in Leiden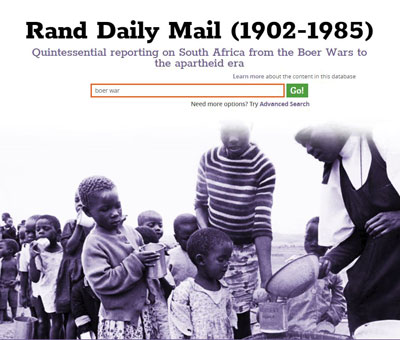 The Library of the African Studies Centre Leiden has acquired access to three important databases containing information about Africa from the years 1540 (!) to 1985. Main focus is on history and culture. The ASCL has also acquired access to large African newspaper databases. The databases contain: 1) A complete digital set of the South African newspaper Rand Daily Mail, 1902-1985. 2) A set of newspapers from all over Africa, 1835-1925. 3) A collection of 1,300 books, pamphlets and ephemera on African history and culture (1540-1921). All three databases can be accessed from within the Leiden IP-range (or remote workspace).
1. Rand Daily Mail
The Rand Daily Mail, published daily in Johannesburg, is a critically important title that pioneered popular journalism in South Africa. It was renowned for its anti-Apartheid stance and contributed to its downfall.
From its start in 1902, the Rand Daily Mail was known for its controversial yet courageous journalism. Despite significant pressure from the conservative government, its writers openly addressed issues that white readers knew little about. Now, decades later, this acclaimed title is a fully searchable online resource containing every article, advertisement, editorial, cartoon, and photograph that was published.
The Rand Daily Mail is of great value to students and scholars, opening exciting new pathways to research a turbulent period in history. Its archives are rich with insight into events related to South Africa's struggle for freedom and democracy, covered in fascinating detail by a group of daring and talented journalists. Examples include Benjamin Pogrund's extraordinary coverage of the Sharpeville massacre in 1960; Helen Zille's uncovering of Steve Biko's murder at the hands of police in 1977; investigative reporting by Mervyn Rees and Chris Day about the Department of Information's effort to influence opinion, an exposé that sparked the scandal known as "Muldergate"; and many more. Rand Daily Mail continued to be popular among progressive readers until - after adopting an outspoken anti-apartheid stance amid a massive clampdown by security forces—it was controversially closed in 1985.
http://infoweb.newsbank.com/apps/readex/welcome?p=HN-SARDM
2. African Newspapers, Series 2, 1835-1925
Expanding the coverage found in the inaugural edition of African Newspapers, this second series delivers 40 additional African newspapers published between 1835 and 1925. Titles from Algeria, Angola, Liberia, Madagascar, Morocco, Mozambique, Namibia, Nigeria, South Africa and Uganda offer deep and unique coverage of nearly a century of African history. Included are such notable publications as the Demain (Algeria), Africa's Luminary (Liberia), France Orientale (Madagascar), Al-Moghreb Al-Aksa (Morocco); O Moçambique (Mozambique), Voortrekker (Namibia), Nigerian Times (Nigeria), Munno (Uganda) and many widely sought South African titles from Cape Town, Grahamstown, Port Elizabeth, Pietermaritzburg and Johannesburg. Among the South African titles are Black Man, British Settler, Cape Times, Johannesburg Times, South African Spectator and more.
http://infoweb.newsbank.com/?db=WHNPX&d_collections=WHNPAFR1|WHNPAFR2
African History and Culture, 1540-1921
Created from the renowned holdings of the Library Company of Philadelphia, African History and Culture, 1540-1921, is the most important and comprehensive collection of its kind. More than 1,300 fully catalogued and searchable books, pamphlets, almanacs, broadsides and ephemera cover the history, peoples, and social and economic development of the African continent from the 16th century to the early 20th century. All areas of Africa and important adjacent regions are covered.
Major subject areas covered include Africana Studies, Atlantic Studies, Ethnic Studies, Gender Studies, Economic Studies, Slavery and Diaspora Studies. Based on the Library Company collection that in itself was an ambitious attempt to gather all printed information about this area and its history, works of all kinds are included: historical narratives, social histories, maps, navigational logs, military reports, government documents, demographic studies, anthropological studies, natural histories, official and personal memoirs and much more. Many seminal items published prior to 1800 are included, but the majority of these 1,300+ works imprints were published in the 19th century. Some examples: various anti-slavery documents, a historical dictionary, the famous Leo Africanus, but also The Memoirs of Paul Kruger. A fascinating database!
http://infoweb.newsbank.com/?db=AFRHCC&s_startsearch=keyword
More information? Contact the Library of the ASCL at asclibrary@asc.leidenuniv.nl
Posted on 26 January, 2018. Last modified on March 9, 2018