Mirjam de Bruijn in the media about the coup in Mali: dialogue is important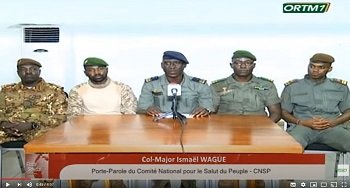 Mirjam de Bruijn, currently in Mali for 'Voice4Thought', has given several interviews about the situation in Mali after the coup on 18 August. 'The international community should not condemn this development, but accompany it', she said to daily newspaper Trouw. And to the website of the Netherlands Broadcasting Corporation NOS: 'If the international community does not initiate a dialogue, but instead keeps the borders closed and calls for sanctions, a power vacuum may be a consequence. Then, possibly, jihadists may attempt to further control Mali.' All interviews are in Dutch.
Read the interview in Trouw.
Read the interview on the NOS website
Listen to the interview on Radio 1.
Read the interview in Het Parool.
Photo: screenshot ORTM Youtube, Colonel-Major Ismael Wague, spokesman for the soldiers identifying themselves as National Committee for the Salvation of the People, announce that they have assumed control of Mali.
Posted on 21 August 2020, last modified on 25 August 2020