Mirjam de Bruijn in Bureau Buitenland on hiphop as protest form in Senegal and Mali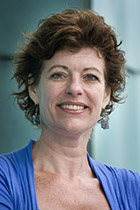 Mirjam de Bruijn was interviewed by Radio 1's Bureau Buitenland on an item about hiphop music from Senegal and Mali. This specific genre expresses concern about topics such as migration, youth unemployment and jihadism. In the interview music fragments alternate with De Bruijn giving background information about the topics these artists speak about.
Listen to the interview (in Dutch).
Posted on 25 August 2022, last modified on 25 August 2022