Michiel van den Bergh interviewed by SPUI about his career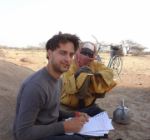 Michiel van den Bergh was interviewed by SPUI (magazine for UvA alumni) about his career that has always focussed on human-animal relations. Van den Bergh defended his PhD thesis Bridging the gap between bird conservation and sustainable development. Perceptions and participation of rural people in Burkina Faso's Sahel region at Leiden University in 2016. His promoters were Prof. Ton Dietz and Dr Dick Foeken (ASCL).
Read the interview (p. 16, in Dutch).
Posted on 8 July 2019, last modified on 8 July 2019