In Memoriam Marieke van Winden (1953-2022)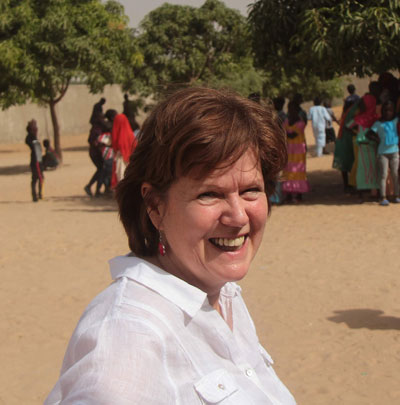 (En français, voir ci-dessous)
The ASCL is deeply saddened by the news that its former colleague Marieke van Winden passed away on 23 November. Marieke was the ASCL's communications officer until she retired in June 2019, and still after that, she co-organised the (virtual) Africa Knows conference (December 2020 - February 2021). Marieke was diagnosed with cancer in August 2021, and despite her ever-positive attitude and a successful operation last June, she was very recently informed that the cancer had returned and was no longer treatable.
Marieke, born in Delft on 20 March 1953, trained as a secretary at the Schoevers institute. She proceeded to study French at Leiden University, full time. She first worked as a secretary at the Academic Hospital Leiden (the predecessor of the LUMC), when she was asked to work as head of the Secretariat at the African Studies Centre in 1997, under Director Gerti Hesseling. Later on, she became Prof. Hesseling's executive secretary.
Marieke was increasingly assigned communication tasks. Already in 1997, Prof. Hesseling asked her to have a new logo designed, a logo that had to 'breathe an African atmosphere and had to look good on wood-containing stationery with a structure', as Marieke later recounted. After Prof. Hesseling, Marieke worked under the ASCL's directorship of Prof. Leo de Haan, Prof. Ton Dietz and Prof. Jan-Bart Gewald.
As a communications officer, Marieke combined a million tasks. She organised the ASCL Seminar Series, book launches, film screenings, the Stephen Ellis Annual Lectures, and international conferences, such as the Africa Works conferences in 2012 and 2014 (co-organised with the NABC). She coordinated and edited the ASCL annual reports and did PR for the various ASCL publication series. She devotedly managed the book stand of the ASCL at the annual (Max van der Stoel Foundation's) Africa Day in Amsterdam and many editions of the European Conference on African Studies, selling books in great numbers. She made sure that every three months an exhibition by an African artist or with an Africa-related theme was on display in the ASCL corridors and library, and organised staff outings to various museums in the Netherlands and Belgium. She maintained contacts with the press, directing journalists to the right research expert, and, later on with her communications colleague, organised the biennial Africa Journalists' Meeting at the ASCL. She would also help colleagues who needed to have a text translated to French or have their own French text checked.
Marieke was not only fully committed to her communication tasks, she was a real ambassador for the ASCL, explaining passionately to guests what researchers were working on, what new publications had just been published, and emphasising the outstanding quality of the ASCL library.
In addition to her work for the ASCL, Marieke had several societal functions. She was a board member of Kakaran, a small-scale foundation active in Senegal and founded by Gerti Hesseling, since 1992. Marieke was also a board member of Voice4Thought and was involved in the Netherlands Association of Africa Studies (NVAS). Moreover, she taught French in her spare hours, at the Academic Language Centre of Leiden University, at BplusC, as well as in small groups or individually at home. After her retirement, she started giving French courses in France, combining French language lessons with cultural excursions.
But Marieke was much more than everything she did. She had a bright and endearing personality, and many colleagues became friends with her. She often had colleagues and students from abroad stay over in her spare room. With a bunch of befriended colleagues she would have dinner parties, visit exhibitions, theatre shows, and music performances (never missing performances by her children). She was sincerely interested in other people and what moved them. She was generous with compliments, and a star in socialising. She loved life.
Marieke will be missed tremendously by her former colleagues. We wish her children, family and friends strength with their loss.
Fenneken Veldkamp, Loes Oudenhuijsen, Maaike Westra and Trudi Blomsma, on behalf of the African Studies Centre Leiden.
(Français)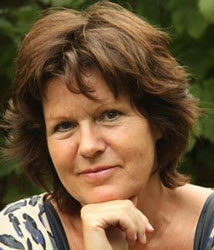 Le Centre d'Études africaines Leiden (ASCL) est profondément attristé par la nouvelle du décès de son ancienne collègue Marieke van Winden le 23 novembre 2022. Marieke était la chargée de communication de l'ASCL jusqu'à sa retraite en juin 2019. Même après celle-ci, elle a co-organisé la conférence (virtuelle) Africa Knows (décembre 2020 - février 2021). Marieke avait reçu un diagnostic de cancer en août 2021. Malgré son attitude toujours positive et une opération réussie en juin dernier, elle a très récemment subi une rechute et a été informée que son cancer était devenu incurable.
Marieke, née à Delft le 20 mars 1953, a suivi une formation de secrétaire à l'institut Schoevers. Elle a ensuite étudié le français à l'université de Leyde. Elle a d'abord travaillé comme secrétaire à l'hôpital académique de Leyde (l'ancêtre du LUMC), jusqu'à qu'on lui offre en 1997 de travailler comme cheffe du secrétariat du Centre d'études africaines sous la direction de Gerti Hesseling. Plus tard, elle est devenue la secrétaire exécutive du professeur Hesseling.
Marieke s'est vu confier de plus en plus des tâches de communication. Déjà en 1997, le professeur Hesseling lui a demandé de concevoir un nouveau logo, un logo qui devait 'respirer une atmosphère africaine et être beau sur papier texturé', comme Marieke l'a raconté plus tard. Après le professeur Hesseling, Marieke a travaillé sous la direction des professeurs Leo de Haan, Ton Dietz et Jan-Bart Gewald, toujours à l'ASCL.
En tant que chargée de communication, Marieke a effectué un million de tâches. Elle a organisé les cycles de séminaires de l'ASCL, des lancements de livres, des projections de films, les conférences annuelles Stephen Ellis, mais aussi des conférences internationales, comme les conférences Africa Works en 2012 et 2014 (co-organisées avec le NABC). Elle a coordonné et édité les rapports annuels de l'ASCL et s'est occupée des relations publiques pour les différentes collections éditoriales du centre. Elle a animé avec dévouement le stand de présentoir des livres de l'ASCL à la Journée annuelle de l'Afrique (de la Fondation Max van der Stoel) à Amsterdam et à de nombreuses éditions de la Conférence européenne des études africaines, où elle vendait de multiples ouvrages. Elle a veillé à ce qu'une exposition du travail d'un artiste africain ou sur un thème lié au continent soit présentée dans les couloirs et la bibliothèque de l'ASCL tous les trois mois. Elle a aussi organisé des sorties pour le personnel dans divers musées des Pays-Bas et de Belgique. Elle a entretenu des relations avec la presse, orientant les journalistes vers les meilleurs spécialistes et, plus tard, avec son collègue en communication, elle a organisé la réunion bisannuelle dédiée aux journalistes à l'ASCL. Elle aidait également ses collègues qui en avaient besoin à traduire leurs textes en français et révisait leurs écrits dans cette langue.
Marieke n'était pas seulement pleinement engagée dans son travail de communication, elle était une véritable ambassadrice de l'ASCL, expliquant avec passion aux visiteurs les travaux des chercheurs, montrant les nouvelles publications qui venaient d'être éditées, et soulignant la qualité exceptionnelle de la bibliothèque.
En plus de son travail pour l'ASCL, Marieke jouait plusieurs rôles pour la collectivité. Elle était membre du conseil d'administration de Kakaran, une petite fondation active au Sénégal et fondée par Gerti Hesseling en 1992. Marieke était également membre du conseil d'administration de Voice4Thought et était impliquée dans l'Association néerlandaise d'études africaines (NVAS). En outre, durant son temps libre elle enseignait le français au Centre académique de langues de l'université de Leiden, au centre socio-culturel BplusC, ainsi qu'à des petits groupes ou individuellement à domicile. Après sa retraite, elle a commencé à donner des cours de français en France, où elle alliait leçons et excursions culturelles.
Mais Marieke était bien plus que tout le travail qu'elle accomplissait. Elle était une personne lumineuse et attachante, et de nombreux collègues sont devenus ses amis proches. Elle accueillait souvent des collègues et des étudiants venus d'ailleurs dans sa chambre d'amis. Avec un groupe de collègues et amis, elle organisait des dîners, visitait des expositions, assistait à des pièces de théâtre et des concerts (sans jamais rater les spectacles de ses propres enfants). Elle s'intéressait sincèrement aux autres et à ce qui les touchait. Elle était généreuse en compliments et était incroyablement douée pour tisser des liens. Elle aimait la vie.
Marieke va énormément nous manquer. Nous souhaitons à ses enfants, à sa famille et à ses amis de la force pour supporter cette perte.
Fenneken Veldkamp, ​​Loes Oudenhuijsen, Maaike Westra et Trudi Blomsma, au nom du Centre d'études africaines Leiden.
Posted on 25 November 2022, last modified on 2 February 2023