In memoriam Chenjerai Hove (1956-2015)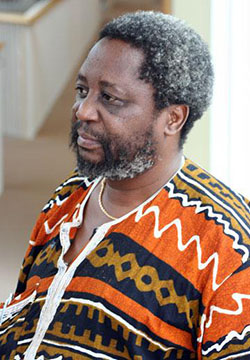 On 12 July 2015 Zimbabwean writer Chenjerai Hove died in Norway, at the age of 59. Widely considered a leading figure of Zimbabwean literature, Hove leaves an oeuvre of novels, poetry, plays, essays and journalistic articles. After his literary debut as a poet, he published Masimba Avanhu? (Is This the People's Power?, 1986), a novel in his native language Shona that addressed the situation of women in Zimbabwe. More poetry and three English-language novels followed (Bones in 1988, Shadows in1991 and Ancestors in 1997), as well as essays on politics and culture. Hove was president of the Zimbabwe Writers' Union from 1984 to 1992, as well as an active human rights activist and founder of the Zimbabwe Human Rights Association (ZimRights). Between 1990 and 1992 he worked as a columnist for (Dutch newspaper) De Volkskrant.
Hove's criticism of the Mugabe regime brought him into trouble with the Zimbabwean authorities. After intimidations and death threats, he left Zimbabwe in 2001, finding temporary refuge in France. In 2002 he stayed for several months in the Netherlands as part of a programme set up by 'Poets of All Nations' (PAN), an organization that supports writers who find themselves in difficult situation in their home countries. During his fellowship at the African Studies Centre —from 2 February till 1 September— he gave a seminar entitled 'Literary Responses to Political Events in Zimbabwe, 1956-2002'.
Hove spent the rest of his life in exile in the United States and Norway. In the US he was a fellow of the International Writers Project at Brown's University (Rhode Island).
Hove was honoured for his literary and journalistic work in several ways. In 1987 he received the Zimbabwe Writing Award, in 1989 the Noma Award for Publishing in Africa, and in 2001 the German-Afrika Award for his contributions to the freedom of expression as a newspaper columnist.
His works have been translated into several languages including French, German, Japanese, Norwegian, Danish and Dutch. Novels, essays and poetry, as well as studies of his work, can be found in the ASC library. Check our online catalogue.
His – too early – death is a great loss for African literature.
Posted on 14 July 2015, last modified on 15 July 2015