Meet our new Research Masters students!
Miriam Ocadiz (23) from Mexico and Rob Hogenboom (24) from the Netherlands are two of our new Research MA students. Want to know more about their background, education so far and (career) expectations for the future? Read these short interviews to get to know them better! The Research MA in African Studies is offered jointly by Leiden University and the African Studies Centre.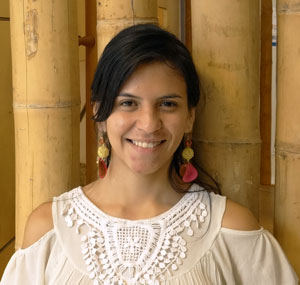 Miriam Ocadiz
'I did my BA in International Studies and a minor in Sub-Saharan Africa also in Leiden, so this will be my third year here. In Mexico, there's no opportunity to do African Studies at all. During my BA, I had Daniela Merolla, Maarten Mous and Felix Ameka as teachers, and they are very good. They also encouraged me to continue with my education and helped me in finding resources to do so.
What attracts me in the Research MA is the possibility to study Africa in depth, and I really like the prospect of going on fieldwork. I am particularly interested in South-South relations. In Latin America, there is hardly any conscience of the African history of our continent, or of the slavery, although we are surrounded by African heritage: it is in our culture, in our music, in our food. We have the biggest African diaspora in the world, but Latin Americans don't realize that, nor do they know what is happening in Africa right now.
I would like to learn more about Angola's history, which has been hugely influenced by Cuba, and about Equatorial Guinea, the only former Spanish colony in Africa, that has the best performing economy but also the longest dictatorship of the continent.
During the Research MA, I hope to find the African perspective, I want to hear about Africa from Africans themselves, from African scholars. I hope to be able to do more area studies here in Leiden as well. I am curious what is being taught about Latin America here. In the future, I would like to start educational programmes about the African diaspora in Latin America; but I am also thinking of continuing with a PhD. But first: the Research MA!'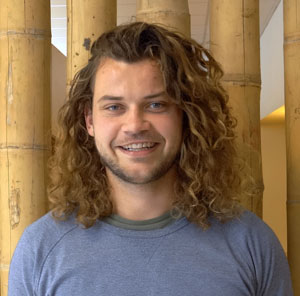 Rob Hogenboom
'I did my BA in (ethno-)musicology at the University of Amsterdam and a pre-Master in Cultural Anthropology. The last six months I worked as a research assistant at the UvA's Centre for Social Science and Global Health. There are various reasons why I chose to do the Research MA in African Studies here: I look forward to the mixed-method approach, which brings together my experience in Humanities and Social Sciences. Leiden University also offers excellent area studies about Asia and the Middle East, which makes it possible for me to combine all my interests. And from what I've heard, the ASC has the best reputation in African Studies.
I am very much interested in music from North-India and the Arabic world, which happen to be two spheres of influence on the African continent and some of its music styles. When it comes to Africa, it's particularly music from Northern Mali, Mauretania, Burkina Faso, Nigeria (the seventies!), Algeria and Egypt I'm into. Music offers an excellent example of my view on culture: the fact that we have a certain idea of what music means, does not necessarily mean that everybody has this same idea. There's not one way to look at culture, or at music. By studying music and culture, I constantly reflect on my own habits.
During the Research MA, I hope to learn more about cultures of resistance in post-colonial areas, and how things there could be different from the mainstream Western discourse. I am not sure yet where this MA will bring me, but I know you can only excel in the things you are really interested in. And this course brings it all together.'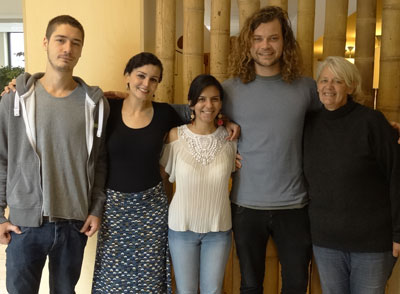 Research Masters 2015.
Posted on 2 October 2015, last modified on 29 October 2016