Mandela's centenary festively celebrated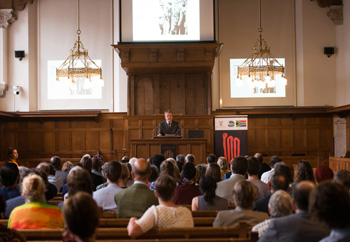 In the presence of His Excellencies the Ambassadors of South Africa, Nigeria, Rwanda, Morocco, Algeria and Tunesia and the Dean of the Faculty of Humanities on behalf of the rector magnificus of Leiden University, Prof. Mark Rutgers, the centenary of the birth of Nelson Mandela (1918-2013) was celebrated on 1 June in Leiden. Prof. Tom Lodge (University of Limerick), biographer of Nelson Mandela, gave an insightful keynote speech about the leadership of "Madiba" by looking at pictures, some of which were of enduring importance in perpetuating Mandela's moral stature. The event was hosted by the African Studies Centre Leiden and co-organised with the South African Embassy to the Netherlands and Vrije Universiteit Amsterdam. We look back on a truly festive afternoon! See the pictures below (© Eelkje Colmjon/African Studies Centre Leiden).
Read Tom Lodge's keynote speech.
Watch Tom Lodge's presentation.
(If you object to having your picture shown below or on social media, please contact us at asc@asc.leidenuniv.nl)
Posted on 4 June, 2018. Last modified on June 28, 2018