Lunch time discussion (Brussels) with ECDPM: Fostering productive employment in Africa: The Dutch Way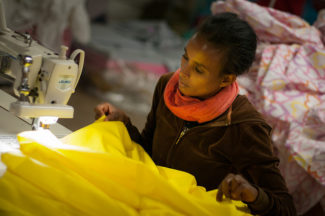 ECDPM and the African Studies Centre Leiden have the pleasure to invite you to a lunchtime discussion on how Dutch companies promote productive employment in Africa based on field research: What is the actual impact of big multinationals like Heineken, Unilever, FrieslandCampina or Shell in the region? In what ways are they fostering productive employment and economic development in the host countries?
The research teams from Kenya, Nigeria and the Netherlands who have been working on the project will share their findings and policy recommendations on how the business activities and investments of Dutch Multinationals have been contributing to productive employment in Africa, by using research case studies from agricultural, horticultural, and energy sectors in Nigeria and Kenya. Multinational businesses bring knowledge and capital to developing countries and thereby help generate and support productive employment. The extent of their contribution depends, however, on their relationship with both the host and home governments. The project 'Dutch Multinational Businesses, Dutch Government and the Promotion of Productive Employment in Sub-Saharan Africa', which is part of the research agenda of the Knowledge Platform on Inclusive Development Policies (INCLUDE) has investigated the policies as well as practices adopted by Dutch multinationals as well as by their home and host governments in order to identify those conditions that enable or hinder productivity and the integration of local businesses into international value chains.
Please note the discussion will take place in ECDPM's offices in Brussels.
Please fill in this form to indicate your participation. For any further questions, please contact Carlotta Maria Paschetto(cmp@ecdpm.org).
Photo: Work in a textile factory. Credits: Andrea Moroni via Flickr.
Date, time and location
ECDPM Brussels Office, Rue Archimède 5, B-1000 Brussels Belgium
Posted on 7 September 2017, last modified on 15 September 2017