Loes Oudenhuijsen awarded Queer African Studies Association Prize for Best Essay by a Graduate Student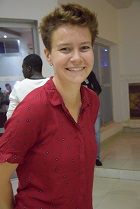 PhD candidate Loes Oudenhuijsen has been awarded the 2022 Queer African Studies Association Prize for the Best Published Scholarly Essay by a Graduate Student. She won the prize for her article 'Quietly Queer(ing): the Normative Value of Sutura and Its Potential for Young Women in Urban Senegal'. The article appeared in Africa, Volume 91, Issue 3, May 2021. Loes Oudenhuijsen is a PhD candidate at the ASCL working on her own project, titled 'Islam, everyday ethics, and its gendered contestations: ''wicked'' women in Senegal from 1950 to the present'.
The Queer African Studies Association (QASA) is a coordinate organisation of the African Studies Association (USA). QASA held its inaugural meeting at the 2015 African Studies Association Annual Conference, which was held in San Diego. QASA aims to facilitate communication, develop networks, and share information among scholars, activists, students, and artists working in the areas of gender, sexuality, and queer studies in Africa.
Congratulations Loes!
Abstract
Sutura (discretion, modesty) is a central element in Senegalese Wolof culture that, among other things, promotes feminine honour through chastity, silence with regard to discussing sexuality with elders, and refraining from articulating same-sex desires in general. Consequently, sutura is seen as limiting the space for non-normative sexualities. However, lesbiennes in Senegal strategically employ sutura to navigate this gender and sexual normativity, whereby they queer the initially heteronormative framework. This article explores how, at the frontiers of international sexual rights activism and its antithetical Islamic social code, young women open new avenues for thinking queer Africa. The article explores young women's diverse tactics to turn sutura from a heteronormative framework into a vehicle for queer expression. These women demonstrate the constant yet indeterminate possibilities to negotiate between normative expectations and queer lives. They furthermore propose an alternative to the international queer frontier of overt resistance and protest, and suggest that the silences that sutura prescribe are more productive for queering their urban environment. By balancing the simultaneous desires of same-sex intimacies, family life, societal expectations and urban success, these women are pioneers in offering new routes for 'queering queer Africa', as Stella Nyanzi has described it.
Posted on 8 December 2022, last modified on 10 February 2023