Library weekly: Sony Labou Tansi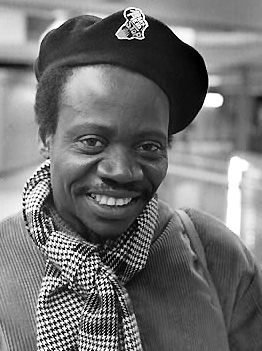 On 14 June 1995, Congolese novelist, short-story writer, playwright, and poet Sony Labou Tansi, born Marcel Ntsoni, died at the age of 47 in Brazzaville.
Tansi was born on 5 July 1947, in the village of Kimwaanza, just south of the city now known as Kinshasa in the modern day Democratic Republic of the Congo. When he was twelve years old, his famliy to Congo-Brazzaville, today known as the Republic of the Congo. Tansi completed his studies at the École Normale Supérieure d'Afrique Centrale in Brazzaville. He qualified as a French and English teacher. After teaching for many years, Tansi moved on to government work, serving as an administrator in several ministries in Brazzaville.
Sony Labou Tansi is the author of numerous plays performed since 1979 by his theatre company, the Rocado Zulu Théâtre of Brazzaville, Congo, and of a series of novels and short stories. His work received extensive critical acclaim and several literary prizes, including the Prix Spécial du Festival de la Francophonie in 1979 for 'La vie et demie', and the Grand Prix Littéraire de l'Afrique Noire in 1983 for 'L'anté-peuple'. He also received a number of awards for his theatrical productions which featured regularly at the Festival International des Francophonies in Limoges and were also staged in number of other African and European countries and the United States.
In the late 1980s Tansi became an opposition-party activist in the Mouvement Congolais pour le Développement de la Démocratie Intégrale (MCDDI). He was elected a deputy for Makélékélé arrondissement in Brazzaville in 1992, but his participation in opposition politics angered President Lissouba, and his passport was withdrawn in 1994. Tansi was sick at the time and Lissouba's travel restrictions prevented him from going abroad to seek treatment. He died of complications from AIDS on June 14, 1995.
(Source: Wikipedia)
Posted on 13 June 2022, last modified on 20 June 2022