Library acquisition trip to Morocco 2018

Tijmen Baarda, Elvire Eijkman, Heleen Smits
and Marjan Nijborg.
There's no better way to boost a library's collection on Morocco than travelling to the annual book fair in Casablanca – the 'Salon International de l'Édition et du Livre' (SIEL). With over 700 participants from Morocco, North Africa, the Middle East and elsewhere – publishing houses, bookshops, writers' associations, universities, NGOs, government institutions, among others – the 24th edition of the fair, from 8 to 18 February 2018, once more proved to be an excellent opportunity for finding books that, ordinarily, one does not (easily) come across.
Arabic, Berber and French publications
This year, Elvire Eijkman and Heleen Smits of ASCL's library visited SIEL together with Marjan Nijborg of the Netherlands Institute in Morocco (NIMAR) and Tijmen Baarda, subject librarian for Middle Eastern Studies and the Islamic world at the Leiden University Libraries. Marjan focused on bringing the NIMAR collection in Rabat up-to-date; Tijmen concentrated on buying Arabic and Berber language publications for the university library; and we searched for books in Western languages for the library of the African Studies Centre. Most materials at the fair were in Arabic, but with 16 per cent of the over 3,800 books and magazines published in Morocco in 2016-2017 being in French, there was more than enough for us to ponder as well.
From Moroccan politics to an Algerian princess
We purchased titles ranging from L'héritage des femmes, on the inheritance rights of Moroccan women; Le Maroc, hub régional: stratégies des échanges Sud-Sud, dealing with, among other things, Moroccan entrepreneurship in Africa; and Politique, démocratie et symbolique: ou comment faire et défaire le politique au Maroc, on Moroccan politics, to La poterie féminine au Maroc, a beautifully illustrated book about women's pottery, and Hiziya, a historical novel about an Algerian princess. We also obtained a French and an English version of Mohamed Kably's important work on Moroccan history, Histoire du Maroc: réactualisation et synthèse, but we were a little too early for the long-awaited French translation of the Dutch publication that coincided with the celebration of 400 years of relations between the Netherlands and Morocco, Marokko door Nederlandse ogen 1605-2005: Le Maroc vu par des voyageurs néerlandais 1605-2005 (Morocco through the eyes of Dutch travellers 1605-2005), by Herman Obdeijn and Abdelkader Benali.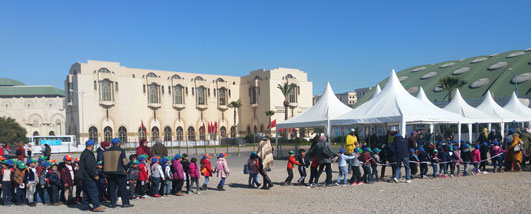 School children
Though the books may suggest otherwise, the fair was not exactly a quiet affair. Each day, busloads of school children arrived from various Moroccan towns. We admired the effort to introduce young Moroccans to the world of books and reading, but did not envy the accompanying adults their task of keeping an eye on all these kids.
The last day of our trip was spent in Rabat. In the morning we visited the Institute of African Studies of the University Mohammed V. The General Secretary of the Institute, Mr. Mohammed Houmine, showed us the Institute's publications, and we were able to obtain those that our library was still lacking, including an edited volume on good governance and combatting poverty in Africa (Bonne gouvernance et lutte contre la pauvreté en Afrique), with case studies on Morocco, Botswana, the Democratic Republic of Congo, Mauritius and Gabon.
Too expensive
We were very fortunate that, thanks to the generous assistance of Leiden professor Léon Buskens, director of the NIMAR - which has recently relocated to a beautifully renovated villa dating from the colonial period - we did not need to worry about transporting the 200 books we acquired, back to Leiden. The majority of the books is in French, but there are also some in English and in Spanish. Most have been published in Morocco, but books from Algeria, Tunisia and Egypt (the fair's guest of honour this year) are included as well. Sub-Saharan Africa was not as well represented as we had hoped; though some books were available from Cameroon, Côte d'Ivoire, Guinea and Senegal. It appears that participation in SIEL is too expensive for Sub-Saharan publishing houses.
Elvire Eijkman and Heleen Smits
Posted on 8 March 2018, last modified on 9 April 2018