Library acquisition trip to Morocco

Elvire Eijkman (ASCL Library), Mohamed Saadouni (Leiden
University Libraries) and Heleen Smits (ASCL Library)
About 45 minutes after take-off from Schiphol airport the captain announces that our plane will shortly begin its descent for landing. Our hearts make a little jump. We are heading for Casablanca, isn't this a bit too soon? The explanation follows quickly: there is a piece of luggage on board without its owner, and protocol demands that we get rid of it as soon as possible. The plane turns around and it is announced that we expect to reach Rotterdam airport at 11:05. A thought flashes through our minds: hopefully this little thing is not set for eleven o'clock … But we land smoothly, stay on the plane while the bag is offloaded and the plane refuelled, and then we are on our way again.
It is Thursday, 11 February 2016 and Mohamed Saadouni of the Leiden University Libraries, Elvire and I are on our way to go and buy books at the 22nd Salon International de l'Edition et du Livre (SIEL), organized from 12 until 21 February 2016 in Casablanca. It is a joint mission of the library of the African Studies Centre Leiden (since 1 January part of Leiden University) and the Leiden University Libraries, with the support of the Netherlands Institute in Morocco (NIMAR) in Rabat. We will spend Friday, Saturday and Sunday at the fair. On Monday, the last full day of our trip, we will travel to Rabat where we will visit some bookshops and where Léon Buskens, head of staff at NIMAR, has invited us for lunch. NIMAR will see to the shipment of our purchases to Leiden, for which we are very grateful as it saves us a lot of trouble as well as costly transportation fees.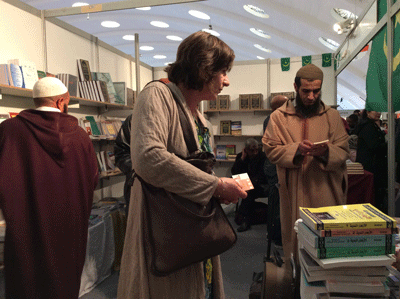 For Elvire, it is her second time at the Casablanca book fair. She was there in 2006, with Tiny Kraan. The fair was big then, but it is even bigger now. Some 40 countries are present, (unequally) divided over 277 stands. Mohamed, Elvire and I arrive half an hour before opening time and fear the worst when we see the people that have already queued up for an entrance ticket (10 dirham, less than 1 euro). But in no time at all, we find ourselves inside, ably facilitated by fast and friendly personnel.
We go our separate ways at the entrance to the enormous hall: Mohamed will concentrate on publications in Arabic, Elvire and I will focus on French and English. We will only buy books published in Morocco and other African countries since French and other European materials are generally easily available to us anyway. But we have to pay attention: a book published in Morocco may have originally been published in France – something that is not always mentioned. There is no Wi-Fi at the fair, but we carry some lists of what our library already has, and at a few places in the hall there are tablets with internet connection for general use.
The majority of what the fair has on offer is in Arabic (an estimated 80%, much of which is about Islam) but there is enough in French for us. During our three days at the fair we find interesting materials at the stands of many different organizations, including the universities of Casablanca, Agadir, Tetouan and Rabat (in particular its Institute of African Studies and its Centre of Saharan Studies) and various research institutes, such as the Institut Royal pour la Recherche sur l'Histoire du Maroc (IRHM); the Institut Royal de la Culture Amazighe (IRCAM); and the Fondation du Roi Abdul-Aziz Al Saoud pour les Études Islamiques et les Sciences Humaines. Organizations such as the Ligue des Écrivains Femmes du Maroc offer interesting materials, as do Moroccan publishing houses such as Le fennec, Marsam, La croisée des chemins and Afrique Orient, to name but a few.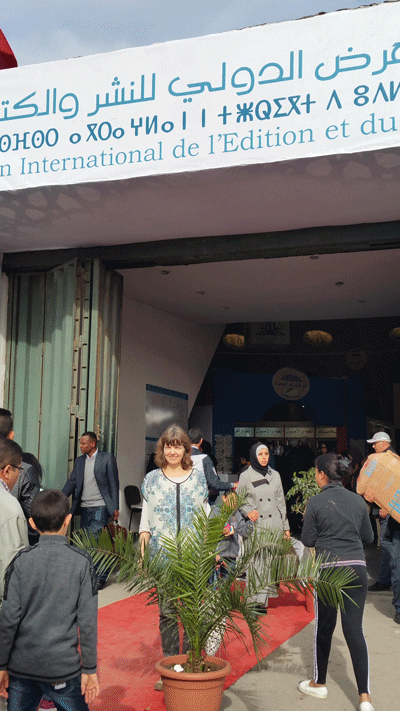 We also buy books at the stands hosted by organizations from Tunisia (particularly strong on works about the Arab Spring), Algeria and Mauritania. Egypt, however, only has Arabic on offer, and, not surprisingly, Libya is absent from the fair. Our purchases will be a much-needed boost for our library's North Africa collection, which is necessary. Although it has been the African Studies Centre library's policy to collect on all of Africa, in practice the North has received a little less attention than the rest of Africa. It is, however, very clear that an understanding of developments such as the rise of Boko Haram in Nigeria and the turmoil in Mali of recent years needs to be informed by an understanding of events in the North. And a few days in the streets of Casablanca and Rabat make it clear that migration from sub-Saharan countries is not something to be overlooked. Africa, of course, includes its North – though from the book fair alone, one might have a different impression. Searching for Sub-Saharan publishers we find only Senegal, Ivory Coast and Gabon, grouped together on the floor plan in one stand named 'Africa'. And the publishers tell us that the Moroccan public – present in large numbers particularly on Saturday and Sunday – has little interest in them.
Time flies and before we know it we are enjoying lunch in Rabat with Léon Buskens and Paolo De Mas, former director of NIMAR, who is teaching a course there. A waiter comes running to close the window next to our table when, out of the blue, hail stones pour down from the sky. After visiting the souk and a number of good bookshops where we make our last purchases, the three of us head back to Casablanca, and the next morning to Amsterdam; over 400 books – half of them for the University Library, half of them for us – follow hot on our heels.
Heleen Smits (ASCL library)
Posted on 4 March 2016, last modified on 1 April 2016