Law and politics in the Ethiopian-Eritrean border dispute, 2002–2019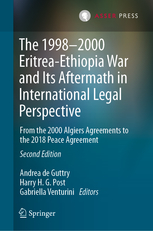 In this chapter, included in a comprehensive legal-historical (re-edited) volume on the Ethiopia-Eritrea border conflict that erupted in 1998, Jon Abbink explores the current state of the border issue between these two Horn of Africa countries, and considers the interplay of international law norms and politics. The nearly two decades-long border stand-off between Ethiopia and Eritrea following the 2002 legal decision of the Permanent Court of Arbitration now seems resolved due to a political decision by Ethiopian prime minister Abiy Ahmed, despite legal doubts and contestation on the nature and line of the border and on the intrinsic merits of the PCA decision. This political solution normalised the relationship between the two countries, despite objections from the leadership of the northern Tigray Region against this decision of the Ethiopian federal government. This aspect may have played a role (although secondary) in the eruption of conflict on 4 November 2020 between Tigray Region and the federal government, showing that northern Ethiopia remains a volatile area.
Jon Abbink (2021), 'Law and politics in the Ethiopian-Eritrean border dispute, 2002–2019', In: Andrea de Guttry; Post, Harry H.G. & Venturini, Gabriella (eds.), The 1998–2000 Eritrea-Ethiopia War and Its Aftermath in International Legal Perspective. From the 2000 Algiers Agreements to the 2018 Peace Agreement, pp. 171-194, and 742. Cham: Springer - T.M.C. Asser Press (E-book: DOI 10.1007/978-94-6265-439-6). (https://www.springer.com/gp/book/9789462654389).
About the author(s) / editor(s)
Prof. Jon Abbink is an anthropologist-historian who carries out research on the history and cultures of the Horn of Africa (Northeast Africa), particularly Ethiopia.
Full text, catalogue, and publisher website
Posted on 15 April 2021, last modified on 15 April 2021