Lahla Ngubo : the continuities and discontinuities of a South African black middle class. New ASC publication by Nkululeko Mabandla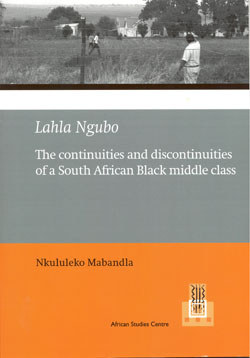 African studies collection ; 50 ; 2013
This book engages with the history of South Africa's black middle class through a case study of a black middle class in the former Transkei Bantustan. The author argues that this middle class, which emerged in the late nineteenth century, was not merely founded on income and occupation, but also owned land. Ownership of land thus became integral to the socio-economic success and self-identification of this group. Parallel developments can be found in a few other areas in South Africa where blacks retained access to free-hold after 1913. The book shows that land continues to be meaningful to the reproduction of this class. The historical analysis thus challenges existing approaches to class analyses which limit themselves to income/occupation and ignore the central role of ownership (of land) in class formation.

Full text, catalogue, and publisher website
Posted on 3 June 2013, last modified on 3 June 2013