Klaas van Walraven in Business AM about house arrest of Gabon's president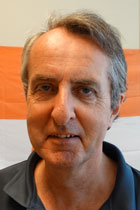 Klaas van Walraven was interviewed by the Belgian radio channel Business AM about the house arrest of Ali Bongo, president of Gabon, after the coup attempt of last week. In the interview he describes the power of the Bongo familiy in Gabon, economic motivations for the coup attempt, and the need for a new patronage network.
Listen to the interview (in Dutch).
Posted on 4 September 2023, last modified on 4 September 2023