Jos Damen on Radio Weetlust about Wikipedia articles on Africa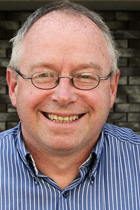 Jos Damen, head of the ASCL Library, was interviewed by Radio Weetlust, part of Sleutelstad Radio, in the framework of Leiden: European City of Science 2022. In the interview Damen explains about the development of Wikipedia throughout the years and about the contributions that the ASCL Library has made to articles about African topics.
Listen to the interview (in Dutch).
Posted on 17 January 2022, last modified on 17 January 2022