Jan Abbink in Nederlands Dagblad about first shipment of grain from Ukraine to Africa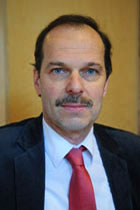 The first ship carrying Ukrainian grain since the war in Ukraine was started, has arrived in East Africa. Almost 20 million people in the region are starving because of drought and conflict. According to Jan Abbink in an interview in Nederlands Dagblad, such disaster scenarios can largely be prevented by investing in smallholder farmers and livestock farmers.
Read the interview (in Dutch).
Posted on 2 September 2022, last modified on 2 September 2022