Interview with Klaas van Walraven on Libération blog about his study of the Sawaba movement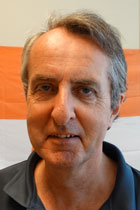 ASCL senior researcher Klaas van Walraven was interviewed by the 'Africa4' blog of Libération about his book on the history of the Sawaba movement in Niger. The book originally appeared in English as The Yearning for Relief and has recently been translated into French as Le Désir de Calme.
Read the Blog interview by Vincent Hirribarren in French (top part) or English (lower part).
Posted on 18 September 2017, last modified on 18 September 2017