"I don't tell my husband about vegetable sales". Gender aspects of urban agriculture in Eldoret, Kenya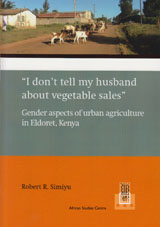 Drawing on the sustainable livelihood approach, this book explores gender dynamics in urban agriculture, which is an integral part of the diversified portfolio of livelihood strategies adopted by residents of Eldoret town to cope with hard economic times. It explores the motives, needs, preferences and contributions of men and women in urban agriculture and the benefits they derived from it individually and for their households. It shows how these were mediated by social norms and gender ideologies, entitlements to farming resources, individual capabilities and personal agency. Also explored in the book are the inter-linkages between urban agriculture and other livelihood strategies and the role of gender relations in the process, as well as policy implications for sustainable and more equitable urban agriculture.
African Studies Centre Collection 46
On Wednesday 5 December at 15h00 Robert Simiyu will defend his dissertation at Leiden University.
How to order
You can order this publication by sending an email to: asc@ascleiden.nl. The price of the book is €15,- (postage not included).
Posted on 19 November 2012, last modified on 18 December 2012