How North Korean Ideology Inspired African Development
Tycho van der Hoog wrote a blog for Afro-Asian Visions about the establishment of North Korean ideological centers in the African continent in the 20th century. In these centres, ordinary Africans could learn more about the Juche system, which can be seen as North Korea's state ideology. The blog explains the role that North Korea and its Juche Study Centres played during the decolonisation of Africa and gives a unique insight in how these centres operated.
About the author(s) / editor(s)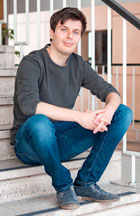 Tycho van der Hoog is a PhD candidate at the African Studies Centre Leiden. His PhD project, tentatively titled 'Blood, Bullets, and Bronze: The Relations Between North Korea and Southern Africa, 1960-2020' seeks to reveal the ties that bind North Korea to the African continent.
Posted on 30 January 2023, last modified on 30 January 2023