Historical overview of development policies and institutions in the Netherlands in the context of private sector development and (productive) employment creation
This paper reviews the Dutch development cooperation policies for the years 1949-2015 with particular attention for private sector development (PSD). Over the years, poverty alleviation, private sector development and security have been dominant focus areas of Dutch development cooperation, with PSD taking a central role as it was assumed that poverty could only be alleviated when a country's economy is stimulated. Therefore, the Dutch government has been strongly supporting policies and initiatives stimulating PSD in the Netherlands and in developing countries. The long history of Dutch development cooperation shows continuity in its approach towards development policy as a way of promoting Dutch businesses and export in developing countries.
Read the working paper here.
This is ASC Working Paper 122 / 2015.
Photo: Signing of a loan agreement between the Netherlands and Kenya, September 1973. Sitting, from left: Mr J. Pronk (Netherlands Minister for Development Cooperation), Mr C. Kibaki (Kenya Minister of Finance), Mr P. Maas (President of the Netherlands Investment Bank for Developing Countries), Mr J. Polderman, Netherlands Ambassador to Kenya. (Photo: Kenya National Archives).
About the author(s) / editor(s)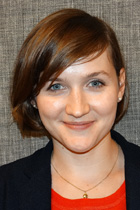 Agnieszka Kazimierczuk is a junior researcher at the ASC who works in the framework of the NWO-funded project "Dutch Multinational Businesses, Dutch Government and the Promotion of Productive Employment in Sub-Sahara Africa: A Comparative Study of Kenya and Nigeria". Her research is focused on Kenya.
Posted on 16 November 2015, last modified on 7 December 2015